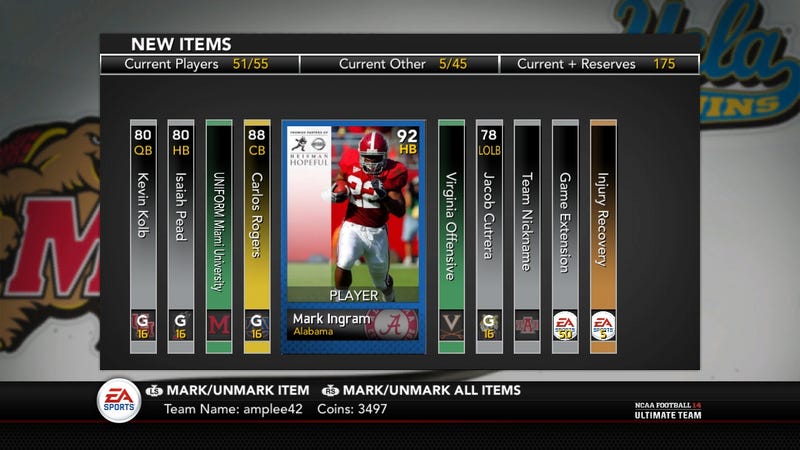 There will be real football players, using their real names, in the debut of NCAA Football Ultimate Team this year. They just won't be anyone suiting up on a college football field this fall.
A deal with the NFL Players' Association gives NCAA the rights to use up to 2,500 current NFL stars, pictured in their alma maters' uniforms, and build a pool of virtual trading cards just as large as Madden Ultimate Team, where the collection-and-player-management game has been running since 2010.
"It was weird receiving an email saying the NCAA franchise was approved by the NFLPA," said producer Ben Haumiller, who added that individual negotiations are ongoing to bring retired stars into the game, with an eye toward signing up more after the game's July launch.
It's a shrewd way for NCAA Football to solve its biggest problem—the fact that, legally and under NCAA bylaws, they may not use actual, active college player likenesses in the game (though there is a massive legal dispute over whether that is in fact taking place anyway.) A game built on a population of fictitious players would have nowhere near the appeal of Madden, FIFA or Hockey Ultimate Team—just ask Diamond Dynasty, a variant of the format introduced by MLB The Show last year, which remains an outlier in terms of appeal. By contrast, MUT, FUT and HUT as they're known, have been enormous drivers of microtransaction revenue to EA Sports, and now—what, NUT?—will be expected to do the same.