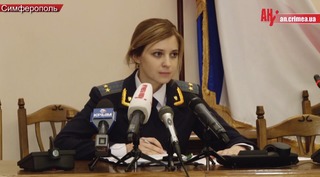 After the new Prosecutor of the Crimean republic, Natalia Poklonskaya, gave a press conference earlier this month, anime style fan art started appearing online. But what does Poklonskaya think of all that?
In a recent interview (via The Voice of Russia), Russian television channel NTV asked the prosecutor what she thought about her newfound fame online.
"This is the first I've heard of it," she replied. "Well, I want to be viewed as the Attorney General, and I want to be evaluated on the way in which I do my job. I'm putting tremendous effort into that."
In another interview, which was uploaded on March 23, Poklonskaya said the reaction online was a "great surprise" to her. Honestly, she didn't quite seem to know how to react.
Below, you can see both clips, with subtitles courtesy of YouTube users Batnik-subs and wintersodomy:
On 2ch, Japan's largest forum, some net users tried to clarify the fan art, saying that she was being portrayed as an anime heroine—and not a sex symbol. "The reporter made a huge mistake," wrote one 2ch user, adding that she was less a sex symbol in Japan and more of a cute symbol. Eh... "She got maaaaaaaaaaad at us," wrote another 2ch user.
Recently, a Twitter account claiming to be Poklonskaya's popped up online, thanking people for the fan art. However, as Global Voices Online points out, Poklonskaya said in a March 19 interview that she doesn't have any social networking accounts, such as Twitter.