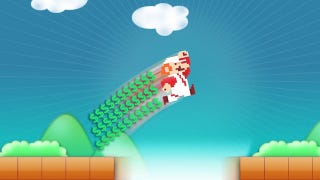 "Just think of paying 99 cents just to get Mario to jump a little higher." No. Let's not think of that. Ever.
The quote above, in today's Wall Street Journal, comes from Seth Fischer, manager of Oasis Management, a hedge fund that owns shares in Nintendo. The Journal got a look at a letter from Fischer to Nintendo president Satoru Iwata, where he makes the case for Nintendo getting into mobile gaming and, more specifically, the business of in-app purchases:
"We believe Nintendo can create very profitable games based on in-game revenue models with the right development team."
Nintendo has said that they're not bringing Mario to smart devices. And they're not too keen on free-to-play either. But Fischer—dollar signs dancing in his eyeballs—desperately wants Nintendo games on smartphones, tablets and wherever else they can make a buck: