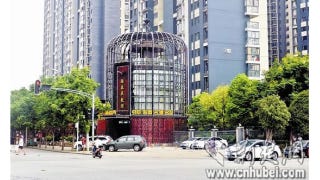 It's not every day you get to see a Chinese building that looks like a giant steel bird cage. Well, that day is today.
According to Xinhua, one of China's largest sites, the two-story building recently appeared in Wuhan, China. It's actually a facade for a club, designed to look like a birdcage, complete with a metal hook!
But before you start thinking this is another illegally built Chinese building, the club said that it got permission to build the garish structure, which is something the Chinese press was apparently able to confirm.