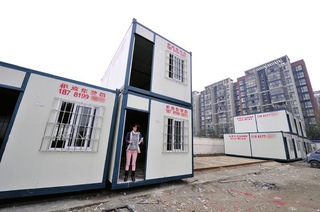 For around $30 a month, you too can live in a Chinese shipping container.
The monthly 180 yuan ($29.68) rent gets Pan Wei (below) a box... and not much else. There's no toilet and no bathtub; however, he was able to get electricity.
Winters are cold, and summers get hot. The containers are small (18 square meters), but some are stacked, making larger apartments.
This isn't a first as shipping container apartments exist in other countries as well.
According to ChinaNews, around eight thousand people supposedly live in containers in Chengdu. Around 2012, this style of residence became more popular. In China, the dwellers are called the "Cabinet Tribe," due to the container's cabinet-like shape. Many are migrant workers, and some rent daily and only live in them for short stints—a little over a week.