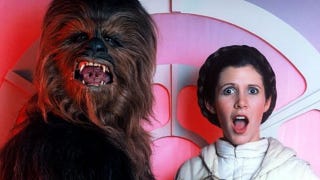 Accomplished pilot. Loyal friend. Iconic hairy dude. Chewbacca is all of these things, but in Japanese, he's more. He's an "average moron."
I say "Chewbacca," and you think, well, probably "Chewbacca." But in Japanese, the name might involve different connotations.
Now, there are several theories about the origin of the Chewbacca moniker that range from chewing tobacco ("chew bacco" became "chew bacca") or that the name resembles the Hebrew word for scream or growl.
It's no secret that George Lucas drew heavily on Japanese films (and motifs) for Star Wars. Kurosawa's The Hidden Fortress was a huge influence in particular. Heck, Toshiro Mifune was apparently going to be Darth Vader.