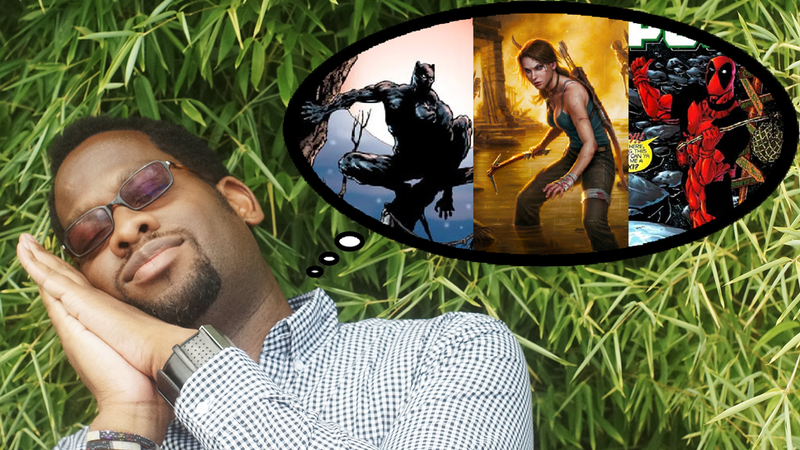 This morning, I woke up from a dream to answer nature's call. My first waking thought was, "Whoa, I need to get back to that dream." Because, in that dream, I was going to deliver an impromptu lecture to a packed loft-style apartment—with Joe Kelly, Gail Simone and, Jesus H. Christ, one of my all-time favorite comics writers Christopher J. Priest— about Deadpool and Quantum & Woody. I'm going to tell you about this dream, why I think I dreamed it and what I think it means.
In the Dream
In the dream, I had to use the bathroom too and reminded myself to use the voice recorder on my iPhone to preserve the brilliance that was to follow. I was gonna kill it in this room. I played a few levels of Drop7 as I tend to do when sitting on the porcelain throne. But I then reminded myself in the dream that people were waiting for me to talk to them about this comics stuff. I got back to the loft space and my iOS devices resisted multiple attempts to unlock them. The crowd parted for me in happy, uniform fashion, not quite Moses and the Red Sea-style but close but not like AI-controlled open-world pedestrians in a video game, either. (Some people actually broke down into pixels at the edges of the crowd.)
But they were people who, again, really wanted to hear what I had to say. I tried unlocking my iPad through a box that had a cheesy, all-over vinyl sticker on it, then I remembered that, 'duh, it's a box.' Slid open the box and my iPad wasn't in there. It was back in some 'somehow connected but who knows how because it's a loft ' other room. I went back to get it. And in the back of my dream-mind, I realized that the refusing-to-unlock devices and the unexpected urge to use the bathroom was me subconsciously stalling, as I tried to decide what this lecture really was gonna be about. iPad back in hand, I walked confidently into the room. I knew what the theme of the talk was going to be. It was going to be 'Who gets to decide who you are?'
Then I woke up.
In Real Life
Where the hell did all that come from? Well, let's see:
On Sunday night, I stayed at a friend's place in Boston to cover Irrational Games' announcement of BioShock Infinite's DLC the next day. So that's probably why the dream lecture happened in a loft.