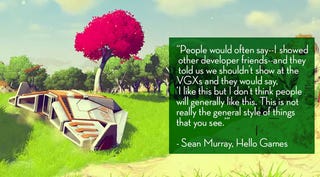 During the first year of No Man's Sky's development, not even half of the Hello Games studio knew what a team of their four developers were working on.
I spoke to Sean Murray, managing director and Hello Games founder, in an interview at E3 in Los Angeles two weeks ago when he told me this story.
"We worked for a year and we didn't actually show anyone," he said. "There's like ten people at Hello Games and four of us just went into a room and locked the door and we had a separate entrance and things like that. We didn't show the rest of the team for that whole year and we also didn't show any publishers or anything like that."
The small indie team at Hello Games is still set to self-publish its impressive-looking first-person game.
---
Murray: "We worked for a year and we didn't actually show anyone."
---
"Why didn't you show the rest of your team?" I asked.
"To build pressure and expectation," Murray said. "I wanted it to go back to what we felt when we were making Joe Danger and what I felt when I was working at other studios on prototype games. I wanted to feel the guilt of wasting time or something not working, that pressure. People, the rest of the team, were working really hard on stuff that was important for Hello Games and Joe Danger-related stuff. So I felt enormously guilty if I wasn't delivering. That's how you should feel, I think. Also this thing of, 'I have to impress them.' We kept saying 'it's not ready, it's not ready, it's not ready.' The longer that went on the more that we wanted to make it good. We needed to justify the amount of time we'd spent on it. So that's quite nice."
"How was the reaction when you finally showed the team?" I asked.
"It was cool," Murray replied. "Some of the team did have those questions, like, how are you going to do this? This is madness, and stuff."
The team was impressed, Murray told me, but they weren't exactly sure what to make of it, either. And they weren't the only ones a little taken aback by their first look at the game that would go on to steal the show at last year's VGX.