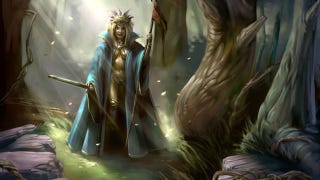 Thirteen years after release, Baldur's Gate II is still one of the best role-playing games of all time. No joke. If you consider yourself an RPG fan, this is a game you have to play.
"But wait," you are most likely thinking, ready to type out a comment about how lame I am. "This game is old! Surely it is unplayable today."
Aha. That is where you are wrong, my persnickety friend. With a couple of mods and a functioning graphics card, Baldur's Gate II is just as stellar now as it was back in 2000.
On Friday, inspired by our compilation of the best classic PC games, I fired up Baldur's Gate II for the first time in many years. I planned to spend a few minutes playing just to see if the game has aged well. Now it's Monday. The past two days are a blur of space hamsters and shadow dragons and +3 swords with extra THAC0 against orcs. I've barely slept. I can't look at a screen without twitching. I can barely even work without thinking about how I'm gonna get Minsc a better sword and go try to slay that demi-lich when I get home tonight.