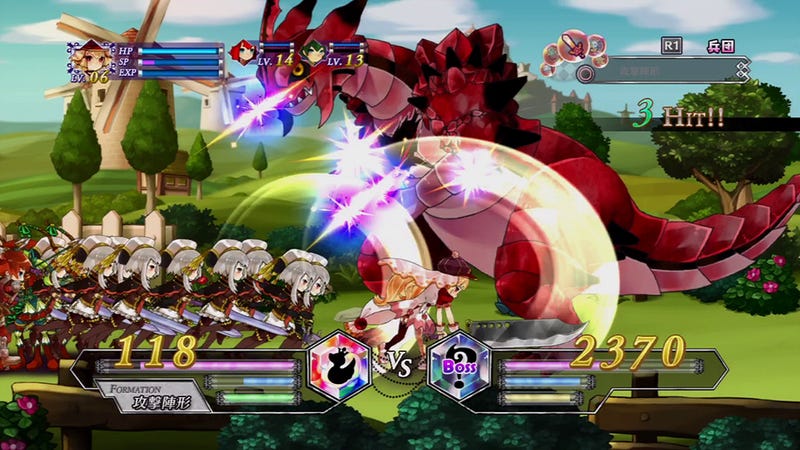 The past week or so, I've had a lot to say about Arcadias no Ikusahime (The Warrior Princess of Arcadias). I've praised the art style and music, and have taken an in-depth look at the gameplay. But even after all that, there's still much more to say about a game that is just so enjoyable to play.
Good – A Light-Hearted Plot
Arcadias no Ikusahime is a PS3 title set in a world where warrior princesses are sent out to fight the ever increasing monster population—as well as invading enemy kingdoms. While this could easily serve as the set up for a serious dramatic plot, Arcadias no Ikusahime has nothing of the sort. Rather the story is that of a comedy more than anything else.
Plume, the resident warrior princess, is hilariously naive—so much so that when her manservant dies at the start of the game, she assumes he will eventually re-spawn like the world's monsters seem to do. She is joined by a colorful cast of characters like her brother, the King, who has been transformed into a duck; the poor hapless schlub who has been assigned as her newest manservant; and her new manservant's sister—who, while a complete airhead out of battle, transforms into a curse-spouting brawler in the face of the enemy.
In other words, the story is full of light comical fun where it's quite enjoyable to just watch the characters stand around and talk.
Good – Bright, Vivid Visuals
I've already talked somewhat at length about the visuals of Arcadias no Ikusahime, but they deserve to be mentioned again. The game is full of bright colors and vivid backgrounds that mesh perfectly with the game's enemy designs. The game's world is split into volcanoes, caves, icy mountains, jungles, forests, plains—not to mention the town or castle—and each has its on distinct visual style that sets it apart from the game's other locations. Even better, the game's soundtrack matches each of the areas perfectly, making for a great overall presentation.