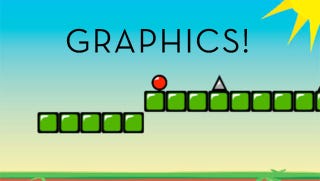 While some are still trying to come to terms with just how Flappy Bird got to the top of the App Store charts, another game has come along that will make you wonder just what the hell is going on.
Right now, the #2 paid app (#1 paid game) on Apple's App Store is a game called Red Bouncing Ball Spikes.
It is, for want of a more eloquent term, a piece of shit.
Built using a $10 template available from Game Salad, a service for people who want some help making mobile games, it's poorly-rendered, breaks on some phones and lacks Game Center support. It lies about its length, promising "over 100 different long levels", while actually delivering around 30. Its first update had to add a menu button, because the original release forgot to.
When Flappy Bird first came out of nowhere, it was accused of having used bots to inflate its download count, propelling it up the charts (and thus in front of more eyeballs, making more money).
The fact so many are enjoying Flappy Bird - and that despite its creative borrowings, it's at least relatively polished - has relegated that theory to the background, as has the fact it's a free game.