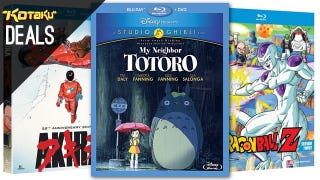 Evangelion, Akira, Miyazaki, Yamato... so much to choose from in today's Amazon anime sale, including movies, television, box sets, and lots of pre-order discounts that include pre-order price guarantee. We'll drop a few picks below, but we recommend a deep dive if you're looking to bolster your collection. Let us know what you'll be picking up, or just what your favorites of the bunch are in the comments. [Amazon]
---
Double Fine is set to live stream a game jam through the Humble Store. If you contribute, you'll get to vote on what they make, get access to the games on Windows, and also unlock the finished prototypes from the team's 2012 jam. [Humble]
---
Not only does Newegg have the Xbox One in stock; they'll throw in a free copy of Battlefield 4 today. Plus, you can save $20 when you get two select Xbox One games from Best Buy.
---
If you haven't played Borderlands 2 yet, or if you just want to pick up some more DLC, there are some great deals for you today. GetGames has the base game for $8, plus sales on a ton of DLC. If you'd prefer the Game of the Year edition, you can get it on Steam directly for just $20.
Borderlands 2 [Steam] ($8) | GetGames | Other Borderlands Games and DLC Also Deeply Discounted
Borderlands 2: GOTY [Steam] ($20) | Steam | Cheaper here than on the GetGames sale
---
If you're looking to upgrade your graphics card, you won't find a much more powerful option than the MSI GeForce 780 Ti. It sells for $715 pretty consistently around the web, but Newegg has it today for $670. Granted, that's not cheap, but it should satisfy the needs of even the most hardcore gamers for years to come. Plus, you can add this copy of Black Flag to your cart and get it for free.
---
The Walking Dead Aquarium Edition as we like to call it, which is a limited edition of Season 3on blu-ray that includes that thing you see above, is down to $65 today from its original $150 price tag.
If you don't have any interest in bringing those five heads into your home, you can pick up the Walking Dead Seasons 1-3 bundle for 72 bucks, or just grab Season 1 for $10 (choose Amazon as seller).
---
The nominees are in, so go vote for your favorite gaming headset!