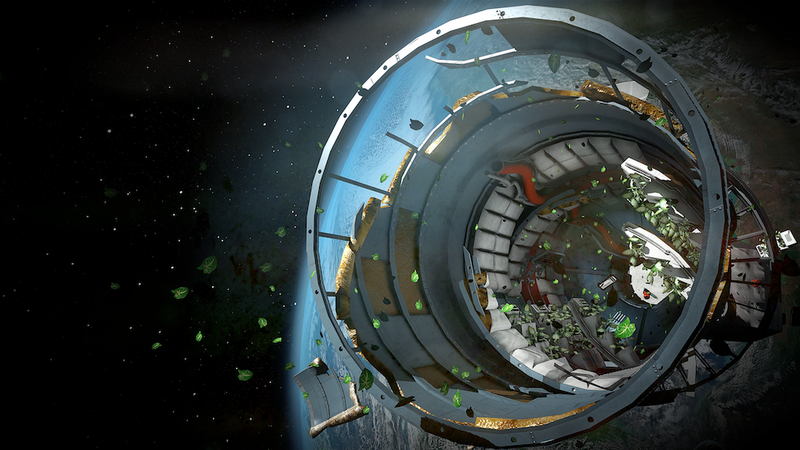 Adam Orth, one of last year's most notorious people on the Internet, was nervous last week as he was showing me his new creation: a beautiful, unusual game that he says was borne from his 2013 travails.
"This is how I chose to, in the words of a famous philosopher, 'deal with it,'" he self-consciously chuckled as he began demoing the game in a hotel suite during last week's DICE Summit in Las Vegas.
He was quoting his most notorious phrase, dashed off on Twitter last year as he infuriated scores of gamers and tipped a domino that'd lead to an upending of his life.
At first you might not see the connection between >Adr1ft and Orth's 2013 drama.
>Adr1ft is a non-violent first-person game that poses the player as an astronaut who begins the game floating above Earth amid the debris of a mostly-wrecked space station. It exists now only as a 10-week prototype that Orth is hoping to get funded. Orth's studio partner, Omar Aziz, played through it for me.
>Adr1ft is meant to be a quiet and lovely game with exploration and puzzles, a combination, as Orth describes it, of the acclaimed immersive first-person shooter Half-Life, the beloved, surreal nature-walk of a game Journey and the movie Gravity, which is also about a person adrift in space.
Orth's own personal disaster happened last year on terra firma and across the Internet. It happened in the spring when Orth, then a Microsoft creative director working on some Xbox TV projects, bluntly stated his support for always-online devices, telling people on Twitter to "deal with it" and then mocking the idea that he'd ever live outside a city, where presumably Internet connections are less reliable.
At the time of Orth's Tweets the next Xbox was not officially announced, but rumors swirled that it would require an online connection. Those rumors largely turned out to be true, though fan uproar compelled Microsoft to drop any such requirement.
Within weeks of his Tweets, Orth was gone from Microsoft. He was also gone, he says, from the Internet, where he received not just gentle disagreements but a tidal wave of vitriol that shook him to his core. He has described changing his life as a result, recommitting himself to his family, losing weight, moving out of the Seattle area and starting afresh in Southern California where he now runs a small five-person indie development shop he calls Three One Zero.