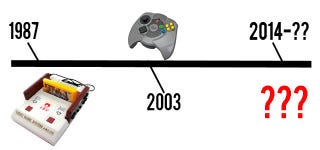 China and video games have a long and ridiculous history, but in the age of the internet, it's a story that's yet to be completely put together. And so, here at Kotaku, we will try to make sense of the history of consoles in China. Stay awhile, and read?
One of the earliest game consoles to make it into the middle kingdom was the Nintendo Entertainment System or the Famicom. Of course at this time, in the eighties, legitimate systems were incredibly expensive. This isn't to say that other consoles weren't available in China early on, but in terms of mainstream systems, the first one came from Nintendo.
Launched in 1987 during the era of the Famicom, the Subar Little Tyrant was one of the most famous and and well-known Famicom knock-offs of its time.