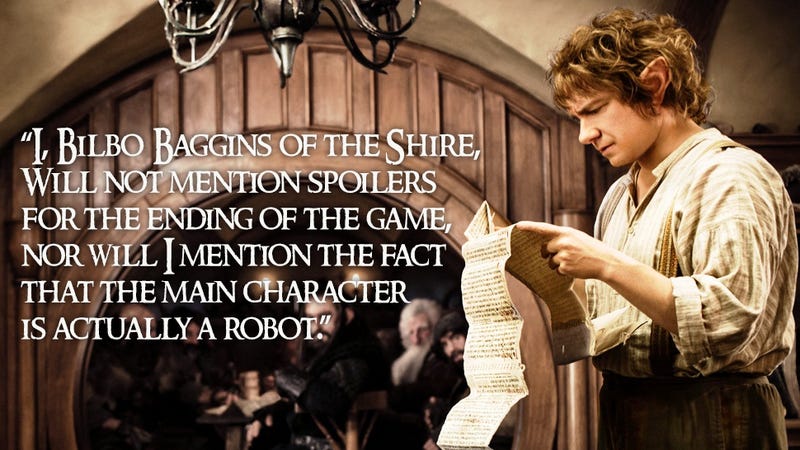 When professional reviewers prepare to review books, movies, or video games, there's a basic understanding that the reviewer won't spoil everything. The reviewer will hold back some details, for the pleasure of their readers or audience.
But something you might not know is that game reviewers—ourselves included—don't always pick what we hold back. We often get a document that lists things we've been asked not to mention. The documents that detail what we can't mention are often amusing. And I've been letting them pile up, so that—without spoiling any recent games in any major way, mind you!—I could share this odder aspect of our jobs with you.
Let's start with a fresh one for Gears of War Judgment. This one came from Microsoft, along with a shrinkwrapped copy of Judgment, a week or so before the game was officially released. It's just one page long and includes the following line, which is standard and, as you'll see, a bit of a head game:
Please avoid including any plot spoilers in your review and features, including (you may want to avoid reading this until after you complete the game):
The sheet then lists seven bits from the game, though they're actually mostly vague. Trust me. Things like "The outcome of the trial" and "The ending of the game." They also mention "The fate of" specific, named characters. And then: "If you have questions about what is or is not a spoiler, please contact your PR representatives."
Halo 4 had a similar one, listing 12 possible spoilers, including "the prologue of 'Halo 4'". It included this reasoning: "To allow fans to experience important story moments in 'Halo 4' first-hand, we request that you do not include any mention of the following...."
Note that it's all plot stuff. Gears had no restriction on, say, levels or modes. Spoil the gameplay all you want; just don't spoil the plot.
For SimCity I got a 16-page "review guide" that included two pages of Q&A about what makes it the right time for a new SimCity and whether you can play single-player (yes, you can....technically). But SimCity's review guide was sadly lacking any amusing spoiler restrictions.Reviews also typically come with fact-sheets that remind reviewers who made the game, how long a series might have been running, what the key new features are in the game. It's the standard stuff you'd expect. It's what you figure a game publisher wants you to know about a game. The reviewer might also get a cover letter signed by the game developer thanking them for taking the time to play. Contrary to some conspiracy theories, they don't include a blank check!
The sheet we got with DmC, the controversial reboot of the Devil May Cry series, did have a spoiler list. They didn't want us mentioning the wig joke that you'll encounter in the game's first level.