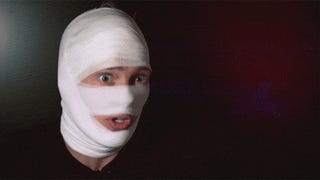 The next generation is around the corner. And with it, video gamers will get wrinkles, hair follicles, and pores like they've never seen before. Before we know it, the Uncanny Valley will become the new normal.
But, as some are wondering online, is it already here? And did we just watch a digital game developer give an interview on television?
Late last week, Moby Dick Studios boss "Joakim Mogren" appeared on GTTV to show off some Phantom Pain images. As previously noted, this looks to be a big publicity stunt for Metal Gear "Joakim" is an anagram of "Kojima", the last name of Metal Gear's creator, Hideo Kojima. What's more, Joakim was pushing the Fox Engine, a new game development engine spearheaded by Kojima at Konami.