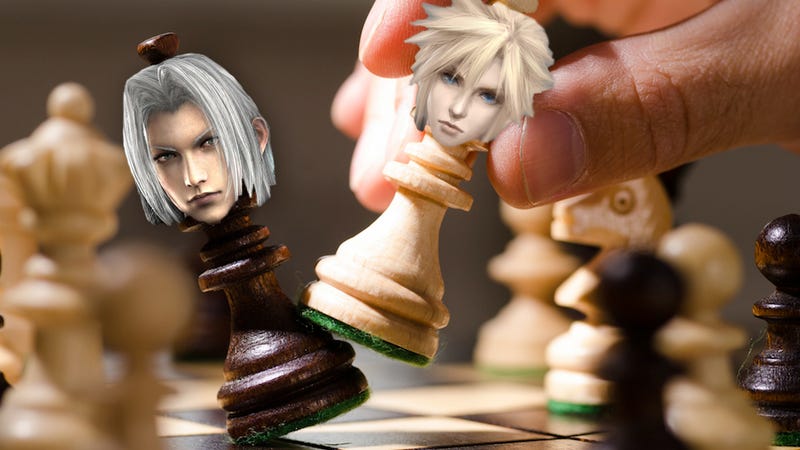 Editor's Note: I'm on vacation today, but since I know you're all craving your regular dose of JRPG goodness, I've enlisted the wonderful Kirk Hamilton to jazz up Random Encounters this week. Be nice! —Jason Schreier
Oh boy, here we go. If I'm gonna take over Jason's column for a week, that means I'm gonna talk about Japanese role-playing games. And if I'm gonna talk about Japanese role-playing games, that means I'm gonna talk about one of their defining characteristics: turn-based gameplay.
Surely turn-based combat is one of the defining characteristics of the JRPG genre. This is, of course, a video game genre that's notoriously difficult to encapsulate or define. I usually help Jason edit his column each week, and I always get a kick out of watching him write such well-articulated observations regarding a genre that's nebulous at best.
What makes a JRPG a JRPG? Man, I couldn't even begin to say. Ask ten people to define a JRPG, and they'll give you ten slightly different answers. But if I had to hazard a guess, I'd say those ten people would all mention at least a couple of the following:
• Something about hair.
• Something about a group of teens saving their hometown and/or the world.
• Something about a burning village.
• Something about turn-based combat.
I'm no JRPG expert. I never had a PSX or an SNES growing up. I first played Final Fantasy VII in 2011, when Leigh Alexander and I wrote a letter series about the game. But recently, I've come to fall in love with the genre, thanks in no small part to the gentleman who normally writes this column.
And of all the qualities that could be said to largely define the JRPG genre, turn-based gameplay is the one I find the most appealing. In an effort to abdicate myself of having to seem like some sort of expert on the subject, I bugged Jason on his vacation to see if he agrees that turn-based combat, while not necessarily present in every JRPG, is still a defining characteristic of the genre. Here's what he said:
"First of all, I can't believe you're interviewing me for my own column. Sneaky, Kirk! I think that it's hard to find a game with turn-based combat that isn't a JRPG, but a JRPG doesn't have to have turn-based combat. It's like... okay, let's say a JRPG is a salad, mostly because that's what I'm eating right now. Turn-based combat is the lettuce. If you have lettuce, you probably have a salad. And there are all different kinds of lettuce, all with different tastes and textures. Lettuce is pretty much the defining characteristic of a salad. But you can have a damn good salad without it, too. Right now I'm eating kale and edamame, which is pretty much the Secret of Mana of salads. "
Sweet! Okay, this has been Random Encounters, your one-stop-shop for all things JRPG. Have a great weekend!
Just kidding. Okay, that's good stuff. Let's stick with the lettuce metaphor: Of the JRPGs I've played, even the ones that didn't exactly feature strict turn-based combat still had turns of a sort. They were all salads, even if they didn't quite look like salads. Final Fantasy XIII, the combat system of which Jason has mentioned being a fan of and I enjoy too, uses an active-time battle system that isn't as turn-based as Persona 4 or Trails in the Sky, but it's not quite Bayonetta, either. Ni no Kuni's combat has never really gelled for me, but it got easier to conceptualize when I began to treat it as a sort of turn-based system where the turns were defined by my cool-off time. Those salads still have some sort of lettuce, it's just been prepared quite differently than we're used to.