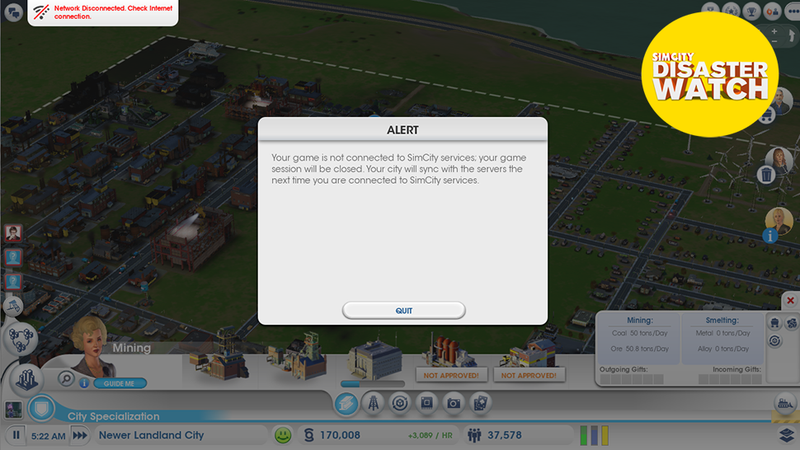 I ran a test yesterday. I loaded the always-online SimCity—the game that EA says just can't be easily made to run offline—and then pulled the proverbial cord.
I switched off my Internet to see how long I could keep on playing.
It didn't last long, but what I discovered intrigued me.
Prior to the official release of SimCity, I'd already seen that the game could run offline if a signal dropped. I play the game on a laptop (a powerful one!) and my WiFi signal at home isn't always so hot. So, when I was playing on a press server a few days before release, I'd get a pop-up indicator telling me the network connection was lost. I could keep merrily building my city, and, when the connection came back, there were no hitches.
The folks behind SimCity have long maintained, however, that their game is made to be played online. That requirement isn't just DRM, they say. It's for gameplay—for simulating parts of the inter-city gameplay, for doling out challenges.
They say this all the time, up to and including last Friday, when SimCity studio boss Lucy Bradshaw told the website Polygon: "With the way that the game works, we offload a significant amount of the calculations to our servers so that the computations are off the local PCs and are moved into the cloud." This, she explained, is why an off-line is currently a no-go for her team at Maxis. "It wouldn't be possible to make the game offline without a significant amount of engineering work by our team."
The game has been running better and better this week. The new servers have made connections easy. So an offline mode isn't as direly needed. But, can this game, as it is designed, really not tolerate offline play?