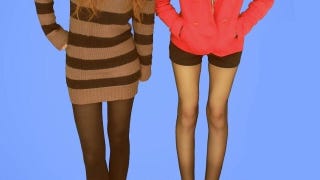 In Japan, it's become a rite of passage. For years now, the country's youth have piled into sticker picture machines at their local arcades and snapped photos with friends. But times change, and so do trends. As the years go by, sticker picture companies must keep pace.
That's led to some unflattering photos.
Almost a decade ago, the trend was pale skin. So, sticker picture companies rolled out machines that could brighten your complexion. Then, the thing was big eyes, so likewise, sticker picture companies had machines outfitted with face recognition software that would make your peepers appear larger.
And now? Now, young Japanese women want longer legs. This is a trend originally fueled in part by the long-limbed Korean pop groups like Girl's Generation—something Kotaku first mentioned earlier this year.