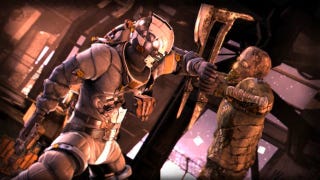 One of EA's top executives says the website VideoGamer fabricated news yesterday when they reported that Dead Space 4 was no more.
The VideoGamer report, which cited an anonymous source, said that "EA has ceased development on Dead Space 4 and effectively axed the series following lower than anticipated sales of Dead Space 3."
According to the VideoGamer story, the studio Visceral Montreal (Army of Two) had been prototyping Dead Space 4 when EA came in and cancelled it. VideoGamer also reported that EA pushed the SF-based Visceral Games to make Dead Space 3 "feel more like BioWare's Mass Effect."
Last month, EA laid off a number of Visceral employees and shut down Visceral Montreal.