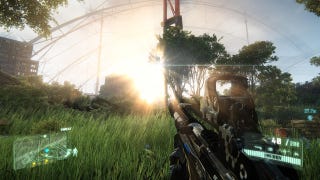 Crytek head Cevat Yerli has come out in defense of his studio's latest game, Crysis 3. In an interview with Gamasutra, Yerli says that the game is "so far, our masterpiece," and that he feels it's better than both Crysis 2 and the original Crysis in all aspects.
He blames the game's tepid reception on the fact that gamers have fatigue with this console generation and with sequels, and says that because the first Crysis was such a different sort of game for its time, it had a bigger impact, which has caused gamers to remember it more fondly than it deserves.
While I agree that history has warped our view of the first Crysis a bit—it's a fun but uneven game with some glaring flaws—for the most part I just don't agree with Yerli's assessment. I found Crysis 3 to be mediocre in almost every way, a short, unfocused, un-engaging game that fell short of both of its predecessors. Crysis 2 was a well-constructed quasi-linear shooter that made up for its personality deficit with enjoyable, balanced combat and polished production. Crysis 1, while uneven, at its best was yards beyond either Crysis 2 or 3. Though I do agree that the first Crysis had a lot of problems that are easy to ignore in favor of focusing on those great opening chapters.