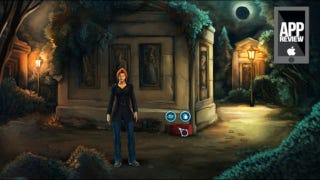 Cognition is a frustrating game to play.
Not just because the fundamentals are frustrating—and they are frustrating—but because there's so much good stuff buried underneath them. I love the tone, the music, the characters. I just can't get past how clunky it all feels.
Let's start from the beginning: Cognition is a point-and-click episodic adventure that was successfully funded on Kickstarter in 2011 and first released for PC late last year. Episode 1 came to the iPad yesterday.
Cognition, which is made by the same folks who created the King's Quest fangame series The Silver Lining, tells the story of Erica Reed, a feisty FBI agent with some psychic powers who suffers through a serious tragedy in the game's opening act. You guide her around, solve puzzles, and use her supernatural abilities to investigate and hunt down a nasty serial killer.