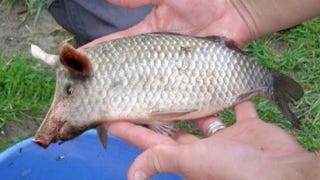 I'm no marine biologist, but I'm pretty dang sure that fish don't have pig faces. There are hogfish and pigfish. But little pig eyes? Pointy pig ears? Nah. That's bunk. Call it a hunch.
Yet, this photo has become a hot topic on uber popular Chinese bulletin board, TT.mop. With river pollution a serious problem, some on TT.mop wondered if this fish was a mutation. Others thought it looked like Photoshop. Others? Sorry, I meant smart people.
Whoever caught this pig-faced fish, should trade notes with the guy who sliced open the dragon he caught. Photoshop notes.