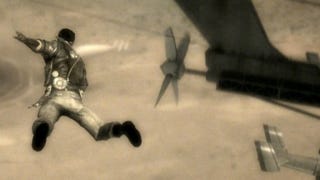 You know what game was a lot of fun? Just Cause 2. But as delightful as it was, it had more than its share of flaws. So, you know what game will probably be really fun? Just Cause 3. And this image shared by Avalanche head Christofer Sundberg on Instagram suuuure looks like a new Just Cause game.
Here's the full image:
---
That sure looks like a plane, and that guy sure looks like Rico Rodriguez.
Avalanche has several games in development at the moment; Kotaku's resident investigator Superannuation believes that one, code-named "Project Mamba," is likely a new Just Cause.