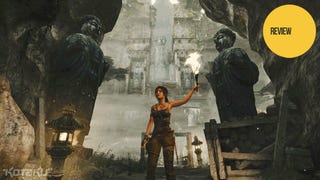 I never wanted to have sex with Lara Croft. And I didn't want to protect her either. In the early Tomb Raider games that I played and loved, the relationship was simple. The lethal, archly snippy adventurer was me and I was her. I wanted what she wanted: to unearth the relics of antiquity. To go where human footsteps had never tread. To forge ahead into mystery. God, I remember swimming to Atlantis in Tomb Raider 1 so vividly. Any game that could create that much awe in me deserved its accolades, no matter what shape the character's polygons were sculpted into.
But, then, Lara got lost. Too many games with too little to recommend them made it so that people only focused on her body and what she wore. (Yes, 2006's Legend recaptured some of the good ol' days, but its spark wasn't enough to keep the series' fires burning.) So it's meaningful, then, that this Tomb Raider reboot starts Lara off at a new beginning. Also significant is the notion that the character who became one of video games' biggest stars gains—and loses—some vigor on her new journey.
In the game, allusions are made to Lara's lineage—as before, she's the daughter of a renowned explorer—and they're heavy with symbolism. "I don't think I'm that kind of Croft," she says to her mentor at one point. "Sure you are," he replies. "You just don't know it yet." This game's all about making Lara into a survivor, both inside the game and out on real-world store shelves. In many ways, this Tomb Raider is a game of catch-up, something to establish parity with the other bankable personas and franchises of the modern gaming landscape.
WHY: Tomb Raider is a taut re-imagining of the iconic Lara Croft as a more vulnerable but increasingly empowered heroine.
---
Tomb Raider
Developer: Crystal Dynamics
Platforms: PS3, Xbox 360 (version played), PC
Released: March 5th
Type of game: Action/stealth origin story with survival horror overtones and online play.
What I played: Played through all of the single-player campaign in about 15 hours. Raided a few tombs.
Two Things I Loved
Yamatai is a palimpsest of despair, a richly designed environment that echoes throughout history. Axis German troops, U.S. Marines from the early 1900s, 17th Century Japanese military forces… everyone was on this island! Finding remnants of previous lost souls makes you want to avoid sharing their fate.
The primal feeling of wielding the bow and arrow as a means of survival is tough to beat in Tomb Raider.
My Two Things I Hated
Tomb Raider 2013 can feel unrelentingly gloomy. Don't go in expecting to feel like a wisecracking badass.
Every time I felt forced to resort to modern firearms, I felt dirty.
Made-to-Order-Back-of-Box-Quotes
"Best zip-lines ever!" —Evan Narcisse, Kotaku.com
"Attention, DC Comics and Warner Bros Interactive Entertainment: Steal everything applicable from Tomb Raider if you want to make a kick-ass Green Arrow game."
—Evan Narcisse, Kotaku.com
You can feel the ambitions of the Crystal Dynamics creative team in the design of the game's component parts. The presentational elements—plot, dialogue, voice acting and art design—all shine. Some characters lean too heavily on type but not so much as to be really annoying. This is a beautiful game to look at, too, with great animations and modeling/texture work that's bursting with vivid, horrid detail in the characters and environments.
That last bit is key, as Tomb Raider quickly establishes it's going to be far more horror-inflected than its predecessors. We meet Lara as part of an archaeological reality television show, heading out in search of a mysterious lost civilization called Yamatai on a ship called the Endurance. Crew members' personalities run the gamut from gruff to kindly and—in the case of the show's star Dr. Whitman—desperately egotistical. The Endurance wrecks on the coast of Yamatai and, from there, Lara must stumble through tableaus of human sacrifice, cult religion and agonizing despair to learn the skills necessary to save her friends.