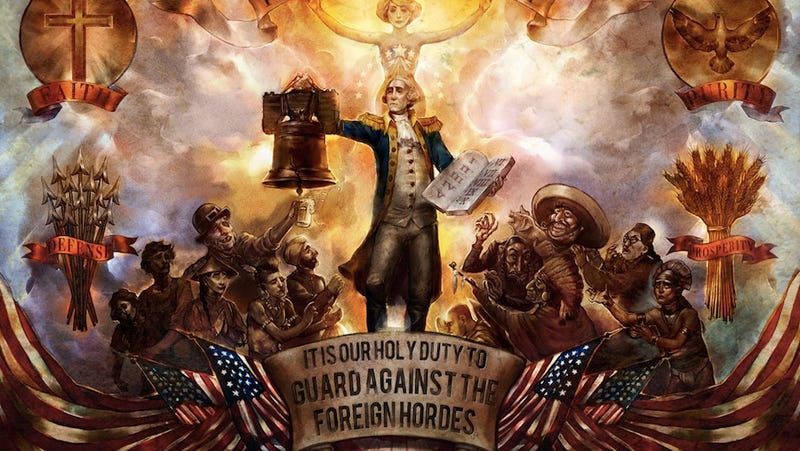 Each week it feels like the video game industry is coming up with new ways to get you to pre-order games. Packaged bonuses, collectors' edition cases, limited edition figures, in-game items, early access to betas, and more.
Today, Irrational Games announced new Steam pre-order incentives for their hotly anticipated action game BioShock Infinite. The rewards sound pretty good at first: "Pre-order BioShock Infinite on Steam today to help unlock exclusive rewards and free copies of BioShock and X-Com: Enemy Unknown!"
But then, you read on:
Here's how it works: if enough people pre-order BioShock Infinite, a free copy of the original BioShock gets unlocked. If that's not enough, a series of exclusive BioShock Infinite-themed items (details below) in Team Fortress 2 will be unlocked if the number of pre-orders reaches the next level. Lastly, Steam will sweeten the pot by unlocking a free copy of X-Com: Enemy Unknown once pre-orders hit that magic number. Of course, this is in addition to the Industrial Revolution pack that you will receive immediate access to just for pre-ordering!
In other words, they not only want you to pay them for their game before it comes out and anyone has had a chance to review it, they want you to act as marketers and encourage your friends to pre-order. Both of those bonus games are great, and make for outstanding pre-release rewards. Both are published by BioShock: Infinite's publisher 2K, which is doubtless why they're part of the deal. I'd take a free copy of XCOM—Kotaku's 2012 game of the year—over an in-game outfit or weapon any day. But surely I can't be the only who finds this whole racket sketchy.