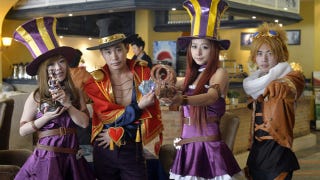 In online game League of Legends, Demacia is a city-state that stands as a symbol of justice and virtue. In China, it's a restaurant.
On February 18, a League of Legends-themed restaurant called Demacia (德玛西亚) opened in the city of Chongqing on the sixth floor of a shopping mall.
Staff cosplay and greet visitors by saying, "Welcome to Demacia." Dishes are named after LoL characters, like Cassiopeia. While not eating or guzzling "potion" drinks, patrons can also play League of Legends in the cafe.
This looks to be completely unlicensed like that bootleg World of Warcraft-themed amusement park.