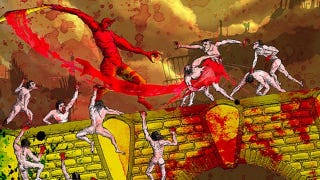 It's the biggest fear of anyone who spends $10 or $50 to help fund a new game.
You see a cool-looking game on Kickstarter or some other website where creative people can ask fans to help pay for their projects. You think it sounds awesome. You give them your money, maybe in exchange for some cool swag, or a copy of the game when it's released. The Kickstarter is funded. Everyone's happy.
And you never hear from them again.
In August of 2010, Brooklyn-based game designer Max Drzewinski raised over $10,000 for a side-scrolling action-adventure game called Perdition (whose art is pictured above). With this money, Drzewinski and his team promised they'd create a prototype of the game and pitch it to publishers in hopes of getting their game picked up and distributed on services like Xbox Live. They promised that backers would receive concept art, t-shirts, and other Perdition-themed goodies in exchange for their donations.
Two and a half years later, Perdition has disappeared.
The latest update from Drzewinski's company—called, incidentally, Abandon Hope Games—says that the project isn't dead yet. That was in August of 2011. The latest update on Perdition's Kickstarter page is from December of 2010.
Last week I reached out to Drzewinski to ask about Perdition. He said the game is still happening, and he sent over the following statement:
As our flagship game we feel that its first impression is paramount and we have a high standard for its level of quality. We don't want to compromise anything to meet an arbitrary release date, so we've been taking the time to polish every detail and interaction before we release it to the general public. In the long run, we believe our backers will appreciate the effort we've put into making it a beautiful, seamless game. Importantly, we will also have something that we are proud of.
I asked why he hasn't said anything to the people who gave him $10,000, but he didn't respond. I called him this afternoon, but haven't heard back.
And Perdition's backers haven't heard back either.
"Wow, it has been a while since I have heard anything from these guys," said Anibal Arocho, a video game consultant for Hit Detection who gave $20 to Perdition.