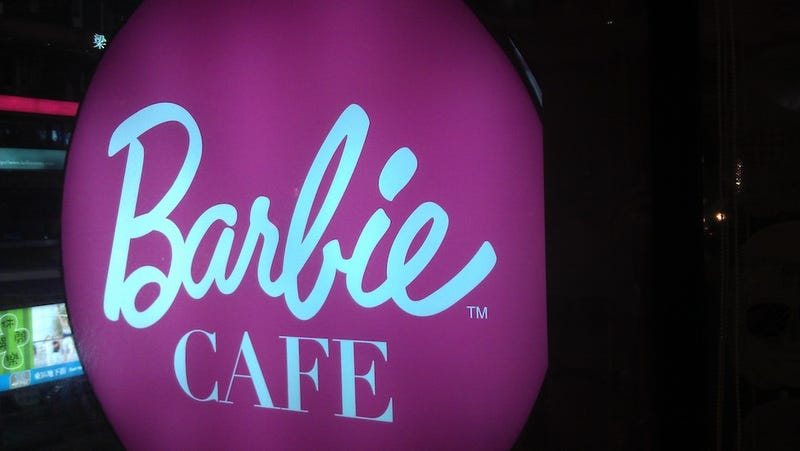 Over the last 53, soon 54 years, Mattel's Barbie has done everything from being a doctor, to going to space as an astronaut, however Barbie's accomplishments are only found within the realm of the "fantastic plastic" world. Despite being a fictional "embodiment" of women, Barbie has hit the real world with different forms of media such as magazines, video games, and movies. Now she is moving on—to food.
Now that's not to say that Barbie hasn't done food before—if I recall correctly, Mattel released the Barbie Bake with Me Oven back in 2000, and through a partnership with its Chinese partners, they also opened the world's first Barbie flagship store with cafe in Shanghai in 2009. The difference this time around is that, instead of opening a store and providing a glorified waiting area, Mattel has opened a true Barbie Cafe, one where the focus is on the edible side of Barbie.
---
Opened in January, the Barbie Cafe located in Taipei's stylish East district is a pink eyesore to behold. From far far away, one can see the bright neon pink signage that says "Barbie". The second floor restaurant is actually a lot bigger than meets the eye.
Walking up the "marbled" steps past silhouetted barbie profiles I was immediately shocked at how ludicrously pink the place was. It was pinker than the Hello Kitty Dreams Cafe in Beijing, and the dim yellow lighting didn't help at all. It almost felt like I was sitting in a real life version of Legally Blonde but with Asians. I am not joking. The flooring material is some light pinkish hue, the ceiling and the wall is another light pink and the pillars are glittering pink rhinestones like someone who loved pink made love to a bedazzled machine and exploded all over the pillars.