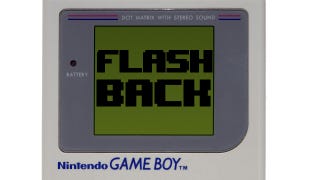 3D without glasses? No thanks. I'll take my monochrome sprites and go and have some real fun.
The Game Boy was kind of a big deal. Revolutionary, even. Console-quality games on the go? Great Scott. Let's look at what people thought of that.
---
"Game Boy promises 'any game, anywhere.' It has a 2 1/2-inch LCD screen with surprisingly clear pictures, and runs on batteries or AC. Two Game Boys can be linked with a cable to provide two-player competition."
Rocket in Your Pocket Hand-Held Games; The Toronto Star, December 3, 1989.
2 1/2 inches! Pocket Rocket indeed.
"'The software drives everything, and there is no question that the Atari (Lynx) product is superior to Game Boy,' said Larry Carlat, editor of Toy & Hobby World, a trade publication. 'But Nintendo is Nintendo and they have the marketing muscle. If something has the Nintendo name on it, it's virtually guaranteed to sell.'"
Jube Shiver Jr.: Hardly Playing Games, Toys: It's Serious Business As Nintendo's Game Boy Goes Head To Head With Atari's Lynx (...); Los Angeles Times, November 20, 1989.
Atari does what Nintendon't! Shame it doesn't work out for them.
"The layout of the controls is also good. There's a cross-key joystick to manipulate the gamesters, as well as A/B buttons that enable two people to play one game."
David Elrich: For Nintendo Fiend, Now It's Portable; St. Louis Post-Dispatch, September 21, 1989.
Co-op consists of shrieking at your partner when they don't hit A and drop your gamester down a pit.
"The name Game Boy not only carries echoes of Walkman, but also reminds us of the target audience for the product: game boys everywhere. But a name like this further reinforces the misguided notion that fun on a home computer is solely for adolescent males. When will we be ready for a Game Girl?"
Dennis Lynch: Nintendo stars at the Electronics Show; Chicago Tribune, June 23, 1989.
Not for a while, mister Lynch.