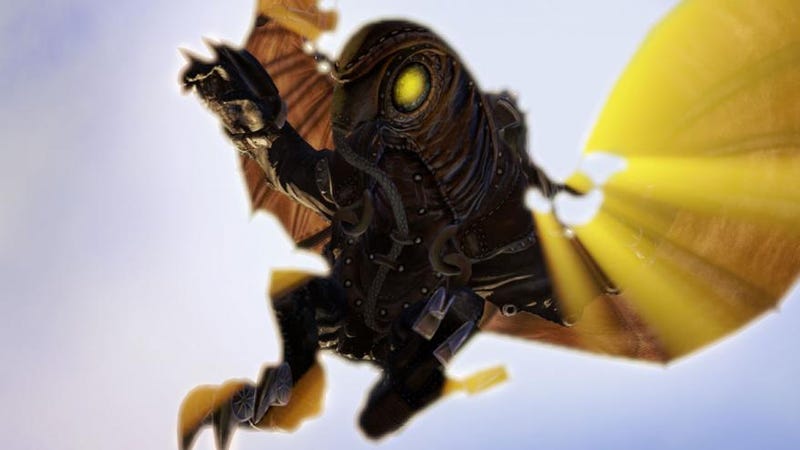 In an office in Union Square last week, BioShock Infinite 's lead creator, Ken Levine, said I could ask him about anything. He was in a kind and generous mood, offering me a strawberry from a bowl of them—he at eats at least half a pound of them a day, he told me.
Anything?
OK...
Here are three things we talked about:
1) Founding Fathers, Racism and What Will Horrify People In The Year 2113
The new game Levine and his crew at Irrational Games are making takes place in 1912 on a city that floats above America. The people running this city idolize some of the founding fathers, but they hate Abraham Lincoln. This is the second straight game from Irrational that looks at some of the warped ideals of the past and warps them further, so I wondered what Levine's view of history is: something to revere? Something to scorn?
"I think there were certainly things that were culturally fascinating in a different period," Levine said. "I also think it's amazing to see people who are so ahead of the curve. I think a lot of people look at this game and in some ways think it's critical of the American experiment, but I think if you look at guys like Thomas Jefferson and George Washington or Ben Franklin, [they] were so extraordinarily ahead of the curve in so many ways in science and philosophy and certainly in politics—the work they were creating, the structure, the tripartite checks and balances and all those things were extraordinary...
"On the other hand, they were very much men of their time. Jefferson and Washington were slaveowners. Jefferson probably fathered a child with one of his slaves, which was very common at the time. I find that interesting. I don't need to… it's ok to be able to hold both of those ideas in your head at the same time. I think it's hard for a lot of people to do [that.]… These guys were both revolutionaries for freedom and held people in bondage in the same time. To me that's interesting. It's certainly not interesting for the people who were held in bondage, but looking back as a history nerd and as a culture nerd, I think they're fascinating, brilliant, revolutionary figures who are also at the same time enslaved to the ideas of the time they came from."
Levine said that Infinite isn't intended to be a history lesson. It refers to the founding fathers; it uses popular reaction to Washington, Jefferson, Lincoln and many others to define its factions. But if there's a message about history in the game, Levine wagers it is mostly about thinking about how our history is taught and about how these figures were more complex than we might have thought and more complex than how we traditionally think or talk about them.
Levine: "It's hard to talk about that period without talking about racism, without really being dishonest about the period."
When I played the first four hours of the game last December, I was surprised how prevalent racism was in the game's narrative and setting. You feel like you're in a place and time where racism is much more widely accepted among the white majority. This doesn't feel common for a video game, but fits with Levine's belief that you can't talk about an interesting era and avoid its complexities. "It's hard to talk about that period without talking about racism, without really being dishonest about the period," he said. "I'm sure in the same way people are going to look back at now from a hundred years from now and they're going to be shocked at some of the things that we're ok with…"