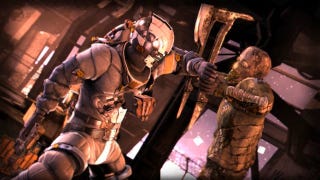 I beat Dead Space 1.
I nearly beat Dead Space 2, but I got so frustrated with one section near the end in which I was trapped in a room with regenerating Necromorphs that I shelved it. (This was after the amazing "needle/eye" bit.)
I come from a long history of loving sci fi, in particular, scary, gritty sci fi. Growing up I was more about "Aliens" than "Star Wars." "Event Horizon," as flawed as it was, still inspired a 20-something Cliff to implement similar scare gags in Unreal 1. "Sunshine" included, I love movies in which man explores space with his best intentions and all Hell breaks loose.
I'm quite familiar with the controversy over Dead Space 3 and the issue of horror versus action. Generally speaking, the scarier a game is the less empowered a player feels. Controls are often clunky on purpose, and the pacing is quite different from an action movie. It feels as if developer Visceral consciously gravitated the franchise more towards the "action" elements over the "suspense/horror" ones, and I'm quite okay with that. We look at the target audience for your average console game and it's often a cocky young male who doesn't want to be scared. Unfortunately, he's the guy who wants to get in and "fuck shit up."