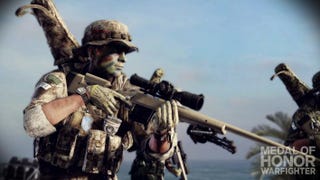 Esquire's fascinating profile of the SEAL Team Six member who killed Osama bin Laden, and his struggles to adapt to civilian life, churned up this intriguing detail: the shooter wanted to consult on Medal of Honor: Warfighter, but Electronic Arts turned him down.
Now, EA didn't know the shooter (who is not named in the feature) was actually The Shooter, as writer Phil Bronstein dubs him. The Shooter's uncle had approached Electronic Arts on his behalf, but could not mention that his nephew was actually the person who killed Bin Laden.
It was in April 2012, and at the time, Medal of Honor was "stacked with consultants," an unnamed EA representative is said to have told the man's uncle. Indeed, there were 30 on this title. Also, the report says the Shooter was retired. While Warfighter did have retired consultants aboard, the development team may also have preferred active duty SEALs. Indeed, seven of them still on active duty were reprimanded for sharing classified information in the course of their consultancy. One, the SEAL who wrote a book about the Bin Laden raid, consulted without permission.