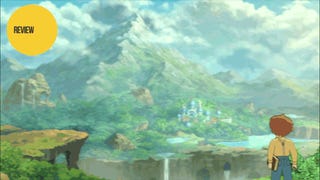 It would be easy, while reviewing Ni no Kuni, to sit at my desk and fling adjectives on the page like a fantasy novelist. I'd call the game whimsical, charming, beautiful, fascinating, smart, pleasant, challenging, slow-paced, grand, surreal, and aggressively colorful.
And yes, those are all fitting words for the new RPG, which came out last Tuesday for the PlayStation 3. The product of a collaborative effort between animation house Studio Ghibli and the game developers at Level-5, Ni no Kuni is a stellar mash-up of both companies' strengths, mixing Ghibli's eye-popping style with Level-5's Dragon Questy substance. It deserves a lot of adjectives.
But what makes this fairy tale work so well, what has earned it a place among my all-time favorites, demands more of an explanation. It requires more than adjectives. It might even call for a noun.
Let me tell you what makes Ni no Kuni so special.
***
The first thing you see, when you start up Ni no Kuni (full name: Ni no Kuni: Wrath of the White Witch, which I promise is more fun to play than it is to say out loud), is a brown-haired boy in overalls running next to a lumpy little critter with a lantern hanging through his proportionally massive snozz. Surrounded by nature and strangely-shaped rocks, the boy and his tiny friend are clearly in some sort of fantasy world. They're nearly trampled by a pack of stampeding boar things. They get down in the nick of time. Then they arrive at a cliff.
"So this is your world," says the boy.
"That's right!" says his companion, whose Welsh accent, while never quite explained, is remarkably endearing. "A whole 'nother world. Beautiful, en't it?"
Beautiful, en't it? There's no better way to sum up the Ghibli-crafted animation, which is grand and meticulous, so lovely that it must be impressive even to the most jaded of gamers. Designed like an animated film, Ni no Kuni blends three-dimensional character models and watercolors in a way that makes everything pop, from crusty stone tablets to flying purple dragons.
There's something elegant about that mundane task—about the fact that the first thing you must do in Ni no Kuni is bring home the groceries.
A few seconds after that intro, we're back in time. We're no longer in the fantasy world. We get our first of many anime cut-scenes, and our first look at Motorville, a generic U.S. city that looks very much like what Japan thinks America looks like. Or what they thought America looked like in the 1950s. Our overall-clad boy—introduced as Oliver—is running to the grocery store, which sets up our first mission: guide the young hero as he brings groceries to his mother.
There's something elegant about that mundane task—about the fact that the first thing you must do in Ni no Kuni is bring home the groceries. Before you can become a powerful wizard and fight monsters and save the world, you have to go get your mother some milk.
Next, as you might expect, some Major Events happen, the game breaks your heart a little bit, and eventually Oliver is told that he is The Chosen One, destined to save both his world and the parallel fantasy world in which you'll be spending most of the game. And then, adventure.
In this case, adventure means following a traditional JRPG formula: cut-scene -> town -> dungeon -> boss -> town -> side quests -> dungeon -> boss -> rinse -> repeat. Sometimes you'll see these events in a different order, but if you've played a game like Final Fantasy or Dragon Quest (particularly, Dragon Quest VIII, which is a lot like Ni no Kuni in many ways) you've seen this structure before. But the game is more than that. Like a good basketball team, Ni no Kuni is significantly greater than the sum of its parts.
Here are four possible theories about what makes Ni no Kuni so great:
1) It's a game that pays attention to the little details. The way Oliver's cloak sways and shimmies in the wind. The way his little Welsh companion, Mr. Drippy, tumbles and dances as you wander through the world. The way Drippy stops dancing when you visit one village in the snowy northeast tundra, and instead mopes behind you, shivering from the cold. The way he'll carry important objects on his head. The way every nook and cranny of this massive world feels like it's been crafted with care and precision, from the tiny cave full of tiny crabs to the giant volcano full of nasty fire monsters. The way characters turn toward you when you're standing next to them.
2) It's a game that never stops surprising. During moments that might feel hackneyed in a lesser game, Ni no Kuni always delivers—mostly thanks to the script, which has been crafted and translated with masterful precision. For example, here's one particularly delightful exchange, presented without context, because you don't really need it:
"The girl is correct. It's no ghost ship."
"So what is it?"
"It's a ghost galleon."
3) It's a game that isn't afraid to offer a challenge. If you're not prepared, you might not be able to keep up. It'd be nice if Ni no Kuni had a "very easy" difficulty mode, since by all accounts even easy mode can get pretty tough, but it's also nice to play with a turn-based combat system that takes a lot of skill to use. While you might get frustrated during a few early boss battles, before you get a pair of quick commands to make your AI-controlled companions attack or defend with the click of a button (commands that really should be available from the beginning), Ni no Kuni's combat system never feels unfair. It is punishing, but never cheap. And that makes victory all the more satisfying.