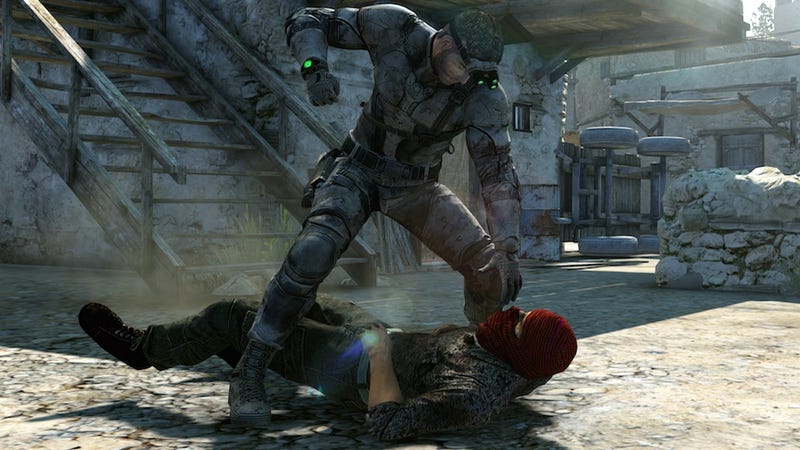 One of the more inflammatory aspects of 2010's Splinter Cell: Conviction was the fact that it included a number of gruesome interactive torture sequences. The game, in which you play as rogue spec-ops badass Sam Fisher, featured a number of ticking time-bomb scenarios in which Sam would torture various bad guys to get information.
True to the model set forth by the TV show 24, Sam's ends always justified his means. He'd break bones, smash faces, and twist knives to get the information he needed, and he'd either kill the bad guy or leave him maimed. Players would take control as he'd push his target around the room, pressing a button to bash a guy's face on a copy machine or slam his jaw into a bathroom sink.
Take a look at this montage of the brutal-ass stuff you'd do to characters in Conviction, all in the service of getting information. It was painful to watch, ham-fisted, and felt decidedly unnecessary and weird. It was especially odd in co-op—I remember my friend and I were taking turns picking up a guy and pressing 'B' to bash his face into the wall and extract information from him. "No, now it's my turn to horrifically torture the guy! Okay, now you go."
Last week, I headed down to Ubisoft to take a look at the new game, Splinter Cell: Blacklist, which is a sequel to Conviction. (My extended preview is here.) After playing the game, I had an enjoyable talk with creative director Maxime Béland. Beland is a sharp, energetic man, tall with close-cropped hair and a perpetual smile. He speaks enthusiastically about his game and game design in general, and our conversation went on so long that eventually, PR had to gently step in and shepherd him off to another interview.