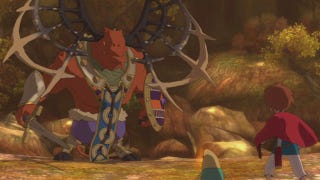 This morning, I got an e-mail from a Kotaku reader named Jaime.
"I am married to a wonderful woman," Jaime wrote, "but she doesn't enjoy playing videogames. She has from time to time, sat down to watch me play games like Okami, Ico or Shadow of the Colossus. She's a big fan of Studio Ghibli so it was natural for her to have an interest in Ni no Kuni."
Ni no Kuni, a role-playing game that came out last week for PlayStation 3, was in part developed by the animation house Studio Ghibli.