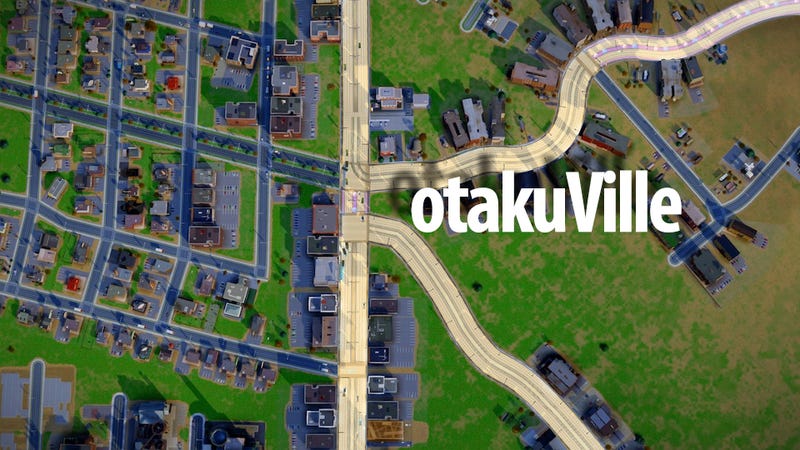 Last week, I headed over to Maxis headquarters in Emeryville to spend a big chunk of time playing SimCity. I decided that rather than attempt to list all of the features of a game this dense, I'd just keep a journal of my day. So that's what I did.
Who's ready for some hot city-planning action?
Many of the screenshots in this article are actually from the city I made while I was there (née "Kotakuville"), but as I couldn't get all of the images I took, a few are stock screengrabs that EA sent over. Those'll be designated, though the differences are pretty clear. The version of the game I played was near to complete but still had some bugs, and the final version is available for purchase on March 5.
Here we go. Hope I don't talk about food/Adam Sessler/Fire Emblem too much.
Tuesday, January 15, 2013
8:54 AM I am still in my apartment, and this preview session starts soon. I'm IMing with Jason Schreier about Fire Emblem: Awakening, which we've both been playing. I've been having a hard time not comparing everything to Fire Emblem lately. The Dead Island severed torso thing is happening, which is proving to be a distraction. Also, I have to pay rent on my way to the train station.
8:57 AM I make a joke to Jason about how I'm including our IM conversation in my journal. He says, "hahaha. excellent. meta."
Time Passes…
10:30-ish AM I arrive at Maxis. I'm running a bit late, but thankfully they still haven't gotten started. I head into a boardroom where they've lined up a bunch of computers for us to play. The usual press folks are here.
10:39 AM Maxis general manager Lucy Bradshaw and SimCity creative director Ocean Quigley come out to introduce the game. They seem genuinely happy to have us here, and proud of what Maxis has put together. I'm sitting at the end of a long table full of reporters, which feels exciting. I'm like the chairman, check it out:
Well-known video game pundit Adam Sessler is sitting to my right. In the interest of Objectify a Male Tech Writer Day, I'll add that I met him for the first time that day, and he seems like a lovely man. He was wearing a snappy hat.
10:41 AM They show us a splashy intro video of the game. The audio is clipping, and it is kind of intense.
FIRE EMBLEM TEST: Is this intro video cooler than Fire Emblem: Awakening? No.
10:43 AM The press materials here say I get to take 10 screenshots. I'm such a screenshot shotgunner, I'm a little bit worried I'll get too excited.
10:44 AM Lead producer Kip Katsarelis gets up to give us tips about how to play. If we want, we'll have 5-6 hours to play SimCity today, which he mentions is a "rushed" experience. I'm not sure I'll be able to play for that many hours at once, but we'll see.
10:45 AM The music that's playing for Katsarelis' demo is quite nice. Chris Tilton did this music for this game. Very soothing.
10:46 AM The PR guy steps in and turns the demo music down. Boo, PR guy!
10:47 AM Just watching Katsarelis use the road-making tool in his demo makes it clear that I'm not going to learn much about this game even if I take all 6 hours. There's a looot here. So many variations, just on the road tool! Arced roads, straight roads, and all these different road types. And my god, so many menus. This is a Stephen Totilo dream-game.
FIRE EMBLEM TEST: Is this demo more interesting than Fire Emblem: Awakening? No, but this is actually pretty cool. I'm looking forward to playing this game.
10:51 AM I had forgotten that they call things you drop on the map "Ploppables." Ew.
Time to Start Playing
10:51 AM Time to start playing. I open up a tutorial called "Getting Started."
10:53 AM Adam Sessler's phone vibrates. He has gotten a text message.
10:55 AM The tutorial involves helping the town connect with the outside world. I tried to connect a road to the highway running down the side of my empty pasture, but I failed, somehow. My road just got... stuck... and there doesn't appear to be a way to get out of the basic road tool or use the bulldozer (?), this being a tutorial. Slight panic sets in. Why does this always happen to me at these events?
10:58 AM I have made peace with the fact that somehow, I failed the tutorial. I built a road out to the highway, and it built "wrong." So, I wound up stuck with a crazy misplaced ramp jutting out, with no way to bulldoze anything. This does not bode well. For me, I mean, not for the game. I wound up out in the menus and was embarrassed about asking a PR person for help, so I thought I'd just dive into a full game. So. Full game! Who needs tutorials anyway?
11:00 AM Wow, I started a new city and two minutes later, it looks like this:
11:01 AM Just kidding. That's a press screenshot. In reality, I have located the bulldozer. Feelin pretty good about that.
11:03 AM I have decided that whatever town I make will be called "Kotakuville," and the roads will form a giant K. Guess what else starts with K? My name. Oh, yeah. I am Ozymandias.
11:05 AM I've begun zoning different areas for industrial, commercial and residential. Everything is tied to the roads this time—you can't just go zone random land that isn't on a road. That makes transportation much more of an artery of the city, and makes it simpler to place your zones in places where you can easily supply them. I believe there are different sounds for each of the three main SimCity zones—for example, for industrial, it makes a metallic sound. I think this is very neat.
11:05 AM Kotakuville will rely on oil power. Let's see how this goes.
11:06 AM It just started raining! In the game, I mean.
11:07 AM My city is broke. Not brokEN, as in, "Damn, your city is BROKE." But like, we have no money. I'm going to try passing a bond measure, because I don't want to raise taxes, because I need to be liked.
11:08 AM My city needed water, so I bulldozed some houses and dropped a water plant where they used to be. Sorry, folks.
11:09 AM Having some fairly extreme graphical slowdown on my computer with the road-building tool. No idea what kind of PC this is, but it seems pretty beefy. Huh. This isn't the final version of the game or anything, so there are liable to still be bugs and the like. This must be one of them.
11:11 AM Placed my city hall up at the top of the "K." Away from the plebes.
11:11 AM Now that I have a city hall, I've been invited to formally name my city. Hello, Kotakuville!
11:16 AM I try to find someone to ask how to take a screenshot. Also, I got a bear claw. It's pretty good! There was almost no coffee left. I can take a screenshot with the "C" key. Because of course, using F12 would be way too… steamy.
11:18 AM Wrapping up the bear claw.
FIRE EMBLEM TEST: Was this bear claw more nourishing than Fire Emblem: Awakening? Not emotionally, but perhaps nutritionally.
Burning Sensations, Server Woes
11:21 AM Uh oh, my city has an abandoned building with no power. I'm… not sure what to do about it. Likely the first of many bad signs.
11:21 AM There's a taqueria in my commercial district called "Burning Sensations." I wonder if the people there read Burning Questions? Anyway that is a terrible name for a Taqueria. Sheesh, residents of Kotakuville.
11:23 AM Our preview session appears to be having server issues, which is making it difficult for some people to play. Hmm. My game is still okay.
11:25 AM My factories all have funny names. "Hair Glue Factory." "Kensherr Magnetrons." "Donut Dough Industries." Kotakuville is a center of industry!
11:30 AM They're showing us another video. While they're doing that, they're also shutting down all of our games to cycle the server, which will theoretically fix the server issues some people are having. Again, huh. This does not bode well for a game where whenever they turn off the servers, every person in the world has to stop playing.
11:33 AM This demo is about all of the different ways you can build an identity for your city. How you can add "personality" and culture to you city. I wonder if you have too much culture, if you can get SimHipsters? I feel like probably not.
11:37 AM We are still not playing the game, because the servers are still down. The launch of this game may well be pretty interesting! And by "interesting" I mean "possibly a disaster." Note that I write this entry at 11:37. THIRTY SEVEN. Coincidence? I THINK NOT