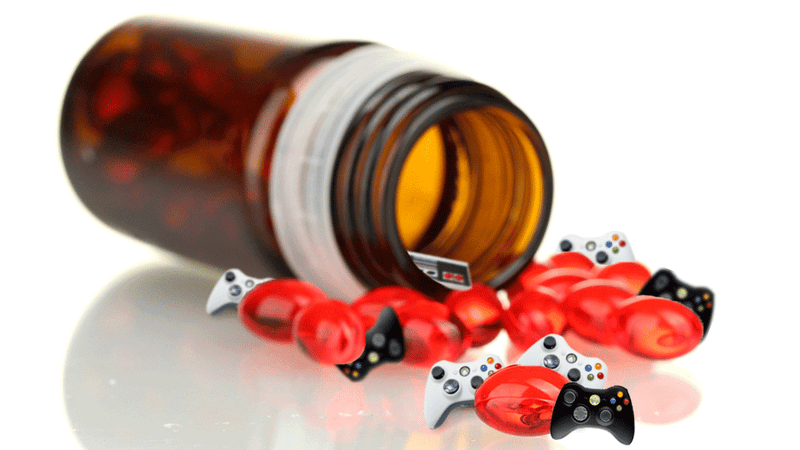 What is gaming addiction, exactly? There is an easy answer to that question, but there is also, naturally, much debate about whether or not it is even a thing.
Psychology can at times be an inexact science, and it seems as though there is always room for debate within that world. As of today, gaming addiction is not a condition for which your insurance company will reimburse mental health professionals who treat you for it, and that is because the very definition of addiction is still in the process of evolving to the point where problematic gaming can be included under its umbrella. And so in order to fully understand gaming addiction and the debate over its validity, we must start at the root of the term.
In the grand scheme of time, addiction has only relatively recently become a medical concept. Before doctors started saying that folks were "addicted" to opium less than two centuries ago, the word "addiction" meant something different. From that point, the scientists and doctors of the world took that word to mean a physical dependence on a substance.
Even more recently, we—the normal, non-scientist humans—have come to use "addicted" within the context of behaviors. We find a thing we like to do, and we partake in that thing more than other people do—perhaps to an emotionally unhealthy degree—and we call ourselves addicted to that activity. But that is not scientific.
In 2010, the American Psychiatric Association revealed the first draft of revisions to its new edition of the psychological bible, the Diagnostic and Statistical Manual of Mental Disorders (DSM). Among those changes was a new category of disorders: "behavioral addictions." Within that category we would find a single disorder, gambling addiction.
Behavioral addictions are still a very contentious issue, and that the category was even included in a proposed draft is a big step toward acceptance.
This was the first sign that the idea that addiction could refer to something other than a physical dependence was beginning to be accepted within the scientific community. Of course, there was still much opposition to this proposal. Many psychiatrists and psychologists were afraid that making such a category would start us down a slippery slope, that it would open the door to too many normal activities being labeled disorders.
As such, there was no mention of the behavioral addiction category in the final draft summary of changes for the DSM-V in December 2012. I'm told that's because that category will not be in the published edition of the manual, but we will find out for sure when it is released in May of this year. That this idea may not be included is not a huge deal, given its small scope in this edition. It isn't as though pathological gambling won't still be in the book. But behavioral addictions are still a very contentious issue, and that the category was even included in a proposed draft is a big step toward acceptance. Even if it doesn't go in now, it will come up again in the next revision within a decade. Big changes to a standard like the DSM come slowly.
***
"Gaming addiction" will definitely not be in the new DSM, at least not as an official disorder. But some version of that idea will be contained within the Section 3 appendix, which is where the APA describes concepts that need further study before receiving an official disorder. There we will be able to find a nebulous idea called "Internet use gaming disorder." Right now, we do not know exactly what that means, but logic dictates it is a combination of Internet addiction and online gaming addiction.
Since behavioral addictions are not yet full accepted within the psychological community, we don't usually use the term "gaming addiction" in official chatter. Instead, we take a cue from what previous editions of the DSM called problem gambling and refer to it as "pathological gaming." You will have seen this term in my last article here on Kotaku. As we move forward with the new DSM, I expect use of that term will continue but be mixed with other terms like "gaming addiction" or "gaming disorder."