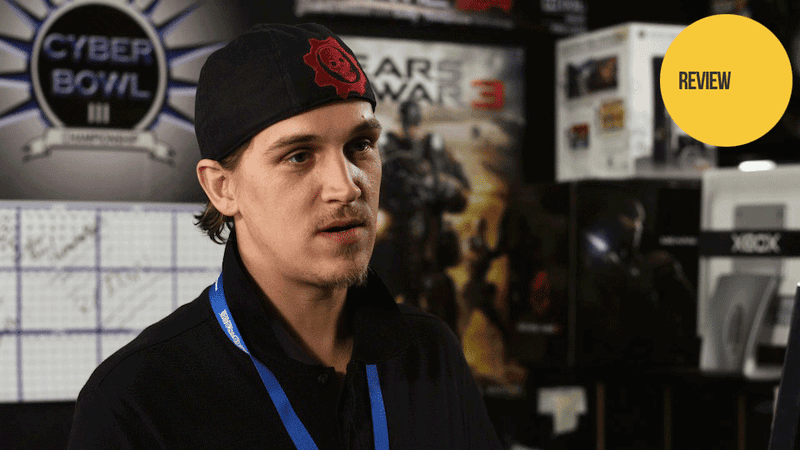 One of the true joys of the movie watching experience is having your expectations blown away. This applies to all forms of entertainment, but films are perhaps the best possible example. Because how many times have you seen a trailer and expected something to be God awful, only to be pleasantly surprised by the actual product in the end? It's happened to all of us, countless times.
But sometimes you watch a trailer for something that looks like crap, and the final product ends up being exactly that. Sadly, that's the case with Noobz.
***
Noobz advertises itself as "the first big, outrageous comedy to capture gamer culture from the inside." And, the thing is, the broad strokes of the movie are not half bad. [Warning: mild spoilers ahead]
Noobz centers on four gamers who, as the Reign Clan, are somewhat proficient at Gears of War. First there's Cody, played by Blake Freeman, who aside from the being the movie's lead, is also its writer/producer/director. He's your average 30 something loser who can't seem to hold a steady means of income, and would rather play video games with his pals than give his wife any attention. Hence why she dumps him early into the proceedings.
Next is Andy, Cody's second banana, portrayed by Jason Mewes, best known as Jay of Jay and Silent Bob fame. His character here is more of a combination of Jay and Randal from Clerks, the film in which Mewes made his big screen debut. Translation: he's your prototypical cool jerk. Third up is Oliver, a guy who everyone assumes is gay, and is thusly the punch line of one lame joke after another. And finally you have Casper Van Dien. Yes, the guy from Starship Troopers. A Hollywood star happens to be part of their gang.
After losing both his job and his woman, Cody is down in the dumps, so Andy suggests that they get everyone together and converge in Los Angeles, where the Cyberbowl Video Game Championships is taking place. The center of it all is—conveniently enough—Gears of Wars, and the grand prize is a ton of cash. So Cody, Andy, and Oliver hit the road, but along the way they have to swing by Utah, where the Hollywood actor lives. And, surprise! It's not Van Dien but the teenage son of the woman he's with (the nature of their relationship is not fully explained), who pretends to be his mom's boy toy.
Also along the way, everyone engages in "witty" banter, the kind that gamers engage in. And once they've arrived, they encounter other gamers, who also portray certain archetypes, which again, gamers are supposed to recognize and perhaps identify with. There's a subplot about an aged pro gamer who wishes to reclaim former glory; the only other game at the Cyberbowl Video Game Championships is Frogger, which said old school champion, Greg "Armagreggon" Lipstein, intends to dominate. Armagreggon is portrayed by character actor Jon Gries, best known as Uncle Rico from Napoleon Dynamite.
Plus, Andy wants to meet his longtime internet girlfriend, who is also a pro gamer and competing in the championship. Her name is Rickie and she's portrayed by Zelda Williams. You know, the daughter of Robin Williams—the two teamed up to promote Legend of Zelda installments on the Wii and 3DS (she was named after her dad's love for the originals on the NES) not too long ago. Now, when laid out like that, does it honestly sound all that bad? Except for the dumb gay jokes of course. No, not really.