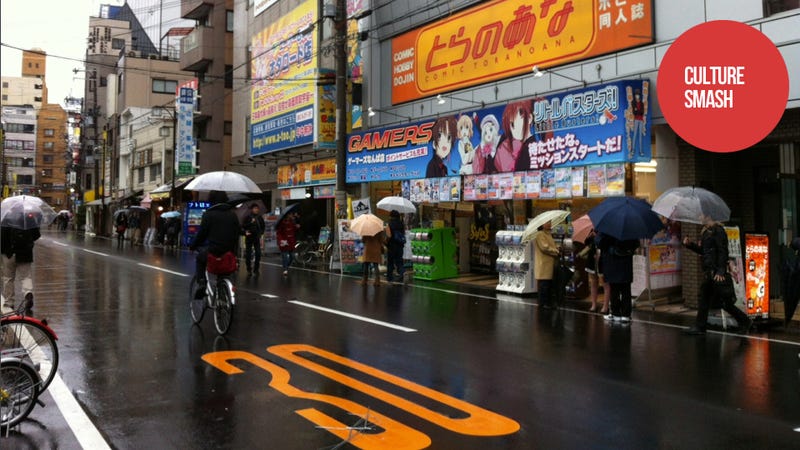 Cold rain drizzles outside. Inside, everything is pink, round, and frilly. The first floor of this otaku (geek) retailer is plastered with release info for new PC games—adult PC games. A young clerk in glasses near the 18-and-up section taps away on a computer, probably checking inventory. I approach, excusing myself for asking a sudden, if not seemingly random question: "Why is PC gaming in Japan so niche?"

The shop is located in Den-Den Town, Osaka's geek and gaming district, on a street known as "Ota Road", short for "otaku road". It's easy to stumble into shops like this and find an array of dating games, some of which are erotic. The vast majority of these games are not exactly mainstream in Japan, but their presence is palpable in a geek neighborhood like this. But what Western gamers think of PC games—the games from developers like Valve and Blizzard—aren't. It's not that those Western PC games don't exist; they just don't smack you in the face.
When many Japanese gamers think of the country's PC gaming industry, the kneejerk reaction is to think of either dating or Western games. "The image of PC gaming with many Japanese gamers is first-person shooters," the clerk replies, agreeing that it is niche in Japan. "That," he continues, "and they think PC gaming is expensive."
It's not only the perceived price, but the notion that game consoles are dedicated to gaming—that you don't have to worry about things like specs. Then there is the 42 year-old manga artist who loves video games, but tells Kotaku via email, "I don't play computer games at all. I use my computer for work, so I don't want to cause it unnecessary stress by installing a bunch of software."
"I don't play computer games at all."
PC gaming wasn't always niche in Japan. During the early 1980s, the PC was the only game in town—literally. Even after Nintendo's Famicom caused a sensation, games like Metal Gear were still being created for the home computer throughout that decade. Nintendo's decision to call its home console the "Family Computer" and release a keyboard and floppy disks for it shows just how much the computer dominated at that time (likewise, so does Sony's decision to name its console arm "Sony Computer Entertainment"). Electronics makers reappropriated the word "computer" for home consoles, and in the process left PC gaming behind.
With multiple domestic players—Nintendo, NEC, SNK, Sega, Sony, etc.—all making hardware in Japan for Japanese players, consoles eventually took over. Video games became inseparable from either arcades or consoles. Meanwhile in the West, game developers worked both sides of the aisle, whether that was game consoles or PC. Today, studios like Washington-based Valve Corporation and California's own Blizzard Entertainment are some of PC gaming's biggest developers—and champions. Yet, game makers of this stature turn up blanks in Japan.
"I have never played a single PC game," 34 year-old factory worker Maki says. "And if you compare to Korea or China, they have many more PC games than we do here in Japan." He notes that elsewhere in Asia, there was a Dragonball game for PC, which didn't make it to Japan. That isn't the only example of Japanese creations ending up on PC outside the nation's shores. For example, Ghost'n Goblins was released on PC in South Korea, a country where PC rules. This week, Namco Bandai announced it would be co-developing a Naruto game for China.