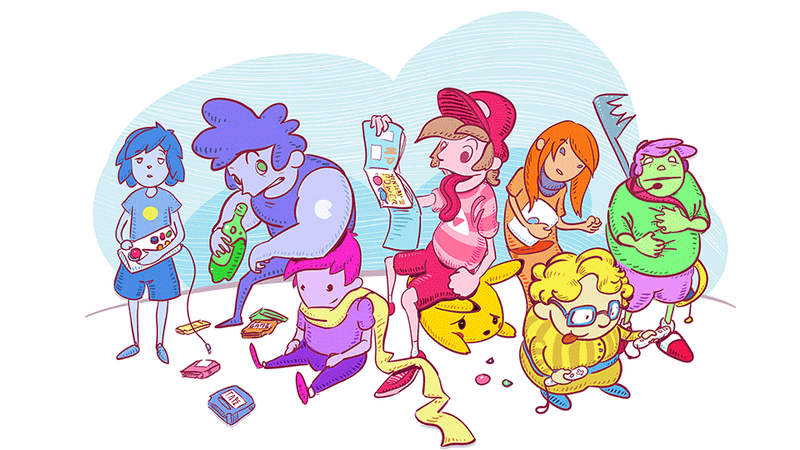 I've been writing for Kotaku, off and on, since 2007. I've been reading it longer than that. One of the accounts I follow on Twitter (follow me!) begs me to not read the comments on blogs. Of course, I don't listen, and that is why my head is crammed with weird shards of anecdotal evidence that are as bring-uppable at board meetings as they are at dinner tables. "More people I know of walked out of 'Django Unchained' during the 'dogs' scene than the 'hammer' scene, I reckon"; et cetera. The "people I know of" part means "internet commenters".
My prevailing impression of internet discourse about video games is that it's riddled with haters.
I am convinced that any non-game-player, stepping into a large forum centered on the discussion of video games and asked to read it for an hour, when asked for their impression, would relate that "they all seem to hate lots of stuff and/or people and/or types of people, and they keep talking about 'CliffyB'—is that a person? It sounds like it's a person. It sounds like they all want to have sex with her—or him. Also there's this guy named Gabe who might be Santa Claus. Is Santa Claus actually real?"
In short, the average non-game-player would likely report that internet discourse about video games is riddled with haters.
A "hater" is a person who communicates with other humans solely to distribute their negativity. A hater hates another person, or another general type of person. Haters hate the people that they hate. Is everyone a hater? Of course not. Yet no one, really, is 100% full of positivity; everyone dislikes something. A zen master may purge himself of negativity, though at the cost of forsaking all earthly culture. In order to go through with something like that, you have to be pretty upset with people—or at least wish you could prove yourself better than them.
Video-game-players, being necessarily more technology-able than the average moviegoer, have watched their medium grow up alongside expanding internet communication methods which allow them to share their opinion and receive feedback on their opinion in record turnaround time. Usually, the feedback is that one's opinion is wrong. Of course: games that spark anonymous internet discussion are often competitive. If a guy shoots at you, you shoot back. If a guy says he likes grape lollipops, you tell him that watermelon ones are the best and he's an idiot for liking grape ones.
Stephen Totilo, knowing that I have opinions about many things, including opinions, asked me if I could write up a hierarchical list of who looks down on whom among all of the genres, platforms, and stereotypes of the video game kingdom. I took the mission. The ensuing investigation was a lot like the film "Zero Dark Thirty", except not exciting, and instead of finding Osama Bin Laden, I found... well. You'll see.
The Video Chain
People generally presume more than they know about everything—be it games or films or fine dining. People generally like to think Their Thing is The Best Thing. That's hardly a groundbreaking hypothesis. Matt Damon's character Tom Ripley put it best, in the film "The Talented Mister Ripley": "No one ever thinks that they're a bad person." Maybe if Socrates were around, he'd tell Mister Ripley that some people want to believe they're the only good person, or that most other people are bad and wrong.
We're going to talk about players of games.
I've applied a little bit of mysterious scientific perspective (disclosure: I am not a scientist, I'm just a mathematician), and here's the way I ultimately see the twisting bonsai branches of the video-game food-chain.
The hierarchy pyramid of haters.

First, a note: I am not saying that I, personally, hate anyone or any type of person. I'm a bit more neutral than that. And I'm not saying that anyone anywhere falls 100% exactly into this category. And I'm not saying it's impossible for a Zelda fan to think hardcore PC game-players are horrible. Anything is possible; this is just a summary of my own anecdotal perspective!
---
The chewy exterior of the video game snobosphere is, unfortunately, built up of a great circle of art-perceivers, all holding hands like Care Bears. These humans have either proudly never touched a whiff of a game or they have played one just long enough to dismiss it as hate and trash.
These are the connoisseurs of films in foreign languages, voluntary readers of books without pictures, chin-scratching sports viewers, members of the NRA (and ardent players of Cave-developed Japanese shoot-them-alls). They are popcorn eaters and they are also caviar-eaters. They are the washed masses.
They are the shotgun-wielding US Marshal silhouetted in the light at the end of the video game medium's long tunnel toward legitimacy.
They are one Roger Ebert with a billion stern faces. Self-identified "gamers" hate this phantom, and are ready to defend gaming's honor with a thousand capitalized blog comments pointing out the Pacific-Oceanic difference in the total gross revenue of all video games and the total gross revenue of all films in any given year. These people are going to keep laughing for a couple more years, at which point enough games like The Walking Dead will exist and even Roger Ebert will shut up.
---
These are the people who could be hardcore, if only a different butterfly had flapped its wings first. Like people who have never smoked a cigarette, they are more holier-than-thou about their un-involvement than a lapsed hardcore game-player, because they have never touched the stuff.
Middlecore Casuals
Do you know anyone who says they got their dad, a die-hard spaghetti-western fan, to play Red Dead Redemption? I know a couple of those dads. I bet my dad would play Red Dead Redemption, if I showed it to him. Would he play Halo? Heck no. My dad would shrug Halo off as a child's thing. He served in the Army for 30 years, and I'm telling you with psychic likelihood that he would not touch Call of Duty. My dad likes the John Wayne "True Grit" better than the (artistically superior) Coen Brothers one. My dad is the guy who took one look at the television, once, when my little brother was watching "Dragon Ball Z", and said, "That car-toon bull-shit better be turned off by the time I got my pajamas on." He will not look at a cartoon. He will change the channel in the event of a subtitle appearing on the screen.
The middlecore casual.

My dad—and maybe some other old dad you know—would instantly be a hardcore game player for The Right Game, if that game existed, and they'd be perfectly unpretentious about it.
Single-Game Devotees
This stratum includes professional players of games like Starcraft, League of Legends, or any tournament game played at the Evo championships. The most distinct feature of this type of player is that they play virtually nothing aside from their game. Their Game is their livelihood. It's their skill. They might get into professional gaming because they enjoy games, though it becomes Just Another Job sooner or later.
The single-game devotee.

These players do not necessarily hate or look down on players of other sorts of games—they just might not give them much of any thought at all. For the purpose of weighting our scale, we will consider these players the tip of the pyramid, in that they're the by-default "snobbiest" daily players of games. I mean no diss: these people are just super-serious about the games they play, to a point where they (in my environment, that is) rarely ever acknowledge any other game existing.
---
This group of game-playing humans plays games probably every day. They represent the largest and most widely diverse group of game-players. Let's go one genre at a time, in order of decreasing nobility.
The Collectors
Anyone with a basement or a room full of old games fits this description. These are the humans who post YouTube links of Dreamcast games on their Facebook every September Ninth; like clockwork, they tell us to "never forget".
The label "Collectors" isn't meant 100% literally—I just didn't want to put the "hipster" word in boldface font: these people are ferociously knowledgeable of games. They are game librarians. They are gambrarians.
Here's the cold, hard truth: not everyone who likes games posts on forums, or posts comments on articles. In fact, most of them don't. If you post comments on a game-related blog, you are a game hipster. It's okay! Don't cry. It's not like you have cancer: you just kind of care about games a whole lot. Whether you're sincerely excited about every bit of news or a jaded jerk like me, if you're in this category, you might Care Too Much.
The Jazzmasters
Or, The Self-Loathing Game-Player. You love very few games, and you love them dearly. You play obscure stuff, weird stuff, and old stuff. You don't like the new stuff so much, and you might sometimes state that in public. You might go into GameStop with friends and laugh at box art. You might be able to eloquently explain why Landstalker is better than any Zelda game. You might sincerely believe Bonk's Revenge is better than Super Mario Bros. 3. You know that Super Mario Bros. 3 is better than Super Mario World. You have "refined tastes"—you're a "connoisseur," and you can't be bothered to ignore the stuff you want to make fun of. You are sort of a jerk. You are the video-game-playing equivalent of an audiophile. You probably also love films and books, and you feel sometimes like this makes you better than any other sort of game-person. Really, it doesn't.
The jazzmaster.

(I hate to say this—as a player of games, this is where I am. I'm not proud of it, really: video games were my life for many years, though books and films were always equally important. I currently make games for a living, and am passionate about all of the games I work on, in whatever capacity I'm involved. I have accidentally transcended to a point where games feel like big, dumb, gross toys. I feel like they're for perpetual 13-year-olds. I'm the snobbiest, meanest, jerkiest sort of game-playing human. I wrote a thing about why a free iPad game was better than all of the blockbuster games released in 2012, for goodness's sake. I'm mean, and I look down on games, and maybe it's out of shame that I used to be fiery-passionate about games that weren't nearly as good as the ones coming out now. Yet I sure do have this encyclopedic vocabulary of cherished memories of polished turds: if you tell me you like Battle of Olympus, I can immediately recommend you Demon Sword, Clash at Demonhead, Faxanadu, and Guardian Legend.)
The Pundits
Do you write a blog about video games? Have you ever been paid to talk about games? Chances are you have a sarcastic streak. Chances are you can't resist writing about Zynga's stock price decreasing without using a stronger verb than "decrease"—like, say, "nosedive". Chances are you've either felt like writing or have written a news post in which you indicate you just don't care about some dumb game where you shoot people.