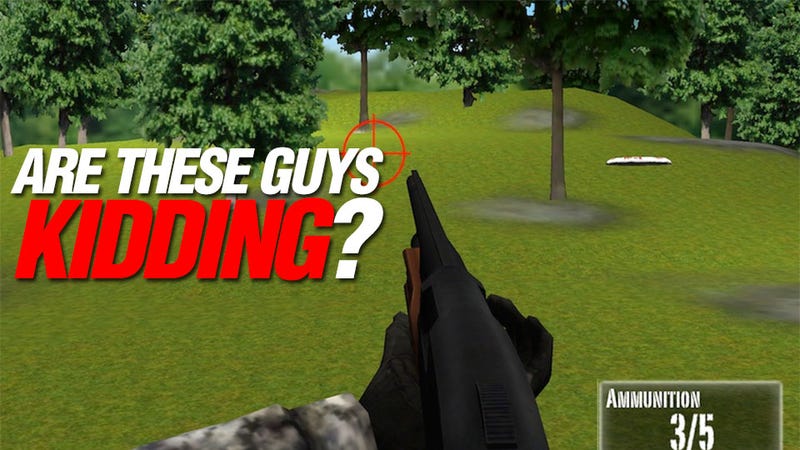 This is NRA: Practice Range. It's a new iOS game released apparently by the fine folks at the National Rifle Association, who have graciously decided to make it both free and available to kids aged 4+ so that anyone, no matter how old they are, can practice using guns to shoot things.
There are three modes in the game, which is designed by MEDL Mobile and listed on iTunes as an "Official NRA Licensed Product." We've got: Indoor shooting, outdoor shooting, and skeet shooting. In all of them, you get to pick a weapon and use it to shoot moving targets. You can use handguns and shotguns. You can also buy an AK47 assault rifle for just $0.99, which is a very good deal for an AK47 assault rifle. Other weapons, like an MK11 sniper rifle, also cost $0.99 each.
And then there is the best part. As you play NRA: Practice Range, you'll see NRA Fun Facts™ like "The NRA sanctions or sponsors over 11,000 shooting competitions and 50 shooting championships each year!" and "NRA programs train over 750,000 gun owners each year!" These NRA Fun Facts™ are also free and available to kids ages four and up.
Today is the one-month anniversary of the Sandy Hook shooting, which groups like the National Rifle Association have been trying to link to violent video games for precisely one month.
The irony of NRA: Practice Range is likely lost on NRA chief Wayne LaPierre, who spoke out last month against video games, calling gaming "a corrupt shadow industry that sells and sows violence against its own people." LaPierre pinned the blame for Sandy Hook and shootings like it on games like Mortal Kombat and Bulletstorm.