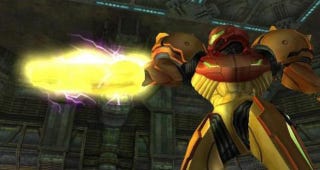 Editor's Note: The mysterious person known as Superannuation shows up every two weeks like a new paycheck, if you had a job that paid you in gaming rumors and secrets, all sourced to publicly available information.
This time, he/she/it has info on the people who oversaw some Metroid Primes, the people who made Dark Void, and Rome: Total War. On with it...
Announced to much ballyhoo in fall 2008, Armature Studio, founded by principles from the Metroid Prime franchise, has fallen off the radar in a way that perhaps no other studio has this console cycle. In their first four years of existence, they very quietly released only one game: the Vita version of the Metal Gear Solid HD Collection, which came out last June. However, a handful of resumes provide some insight into the mysterious studio's activities over the past several years.
Shorty after the studio's formation, Armature struck a deal with Electronic Arts through the publisher's Blueprint division, headed up by industry veteran Lou Castle. Under its arrangement with EA, Armature's small team was to serve as an incubator of intellectual property for the gaming giant' & developing various concepts and prototypes that would then be handed off to another team, with Armature's staff keeping a close eye on the projects. The Armature deal was one part of Blueprint's overall mission to figure out ways to counter the rising cost of game development.