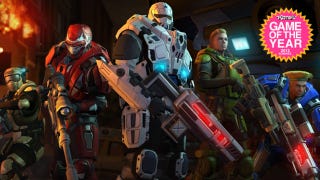 April 16, 2015
Location: Sapporo, Japan
Operation: Extraterrestrial Terrorism Response
Codename: Lost Spark
Mission Parameters: Failure will result in the immediate loss of resources and support from Japan. This would deal a devastating blow to the XCOM project.
Project Goal: Save the Earth, and all who call it home.
This mission, which comes from a template of regular assignments, delivered my most profound gaming experience of 2012, one I'll remember for the rest of my days. Games that take hold on your mind well after you power down the console or put the PC to sleep deserve to be called Game of the Year. Kotaku has nominated eight so far. XCOM: Enemy Unknown is the ninth and last.
Here's what happened. It was my first terror response, and my ill-considered, but understandable push to save every civilian left my unit spread out and unable to help teammates. We had three veterans, a scared rookie, and an apple-cheeked assault specialist from Washington state, fresh off his promotion to squaddie. I'd named him for a friend, as most players of XCOM do.
Our top sniper, who had just made lieutenant, was charged and wounded by the last chryssalid and failed to stop it at close range. My friend, the squaddie, had a shotgun and the run-and-gun perk, allowing him to fire after two movements. The medikit I'd assigned him was used to save the rookie. I directed him to charge the chryssalid and blast it point blank. He inflicted a critical hit and, having presented himself as an unprotected target, was killed in the next turn. The lieutenant then dispatched the enemy with one shot from her sidearm.
I saved the game, went upstairs, and wrote out a casualty notice to my friend. Then I wrote the orders for a posthumous medal, legitimately choking up as I typed out words like "indomitable courage" and "extraordinary heroism." Then I wrote the remarks the president delivered at his funeral, attended by the heads of state of all the XCOM nations. The prime minister of Japan was there.
That award and that funeral didn't happen in XCOM of course. Still, these perfectly hallucinated scenes—and if you have played the game you have at least one—are a direct result of the game's brilliant design, honoring a tradition going back nearly two decades. Considering what XCOM: Enemy Unknown was up against, this is the best execution, in the face of the highest expectations, of any game development team in 2012. This is XCOM we're talking about, a titan of PC gaming being remade—and on consoles, too.
Remember when XCOM: Enemy Unknown was formally announced? It was a year ago tomorrow. The XCOM reboot that everyone loved to hate, announced in 2010 and showed at E3 in 2011, had been delayed. Conventional wisdom had it that 2K Games hustled Enemy Unknown into service as a stopgap, a tide-me-over, possibly even a downloadable party favor, to appease the diehards and deflect their disappointment from the other XCOM, which departed significantly from the original.