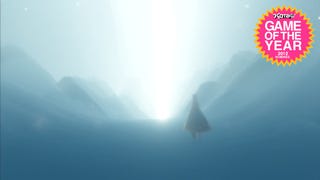 The first time I played Journey, I thought, "Okay."
It had been a lovely experience, sure. I'd played it to around the halfway mark, taken a short break, then finished it. It seemed very nice. Remarkably pretty, and with a gorgeous soundtrack. Past that, I couldn't quite nail it down.
The second time I played Journey, I thought, "That was one of the most beautiful video games I've ever played."
I guess I just needed some perspective. Journey is the rare game that exists as a coherent whole, a fully-realized work in which each fifteen-minute chunk of its two-hour runtime is equally important. Because of that, it's a rare game that needs to be taken and digested as a single entity.
Many good games can be stripped for parts, analyzed afterwards as a series of excellent, good, and bad levels. The train sequence in Uncharted 2; the Chernobyl level in Modern Warfare; the final chase in Assassin's Creed III. Most video games are collections of discrete ideas that have been unified, with varying degrees of success, by an overarching narrative.