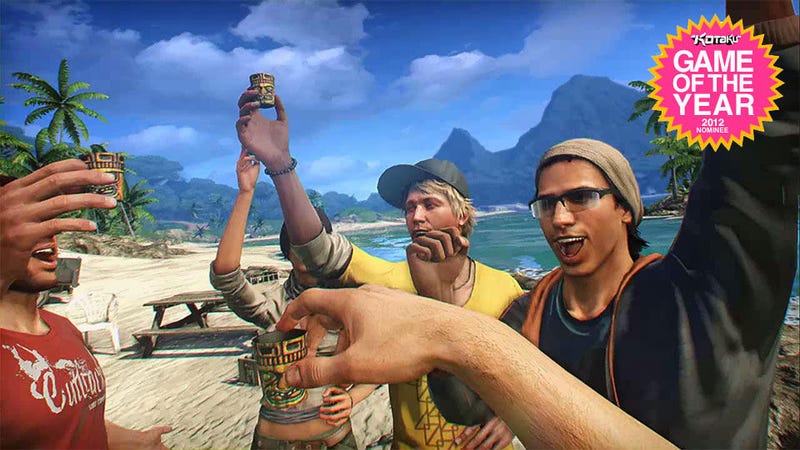 Far Cry 3 should not be my nomination for 2012 game of the year. I'm not a huge fan of first-person shooters. While I appreciate the technical accomplishment of the first two games in the series I've not felt compelled to complete either. I felt absolutely no excitement leading up to the third installment's late November release. I expected a visually pleasing shooter that would keep me occupied for an hour or so before I moved on to more compelling things.
What I got was the only open world action-adventure game I've ever loved.
Don't cry for Grand Theft Auto IV and Red Dead Redemption. What we had was special—it was just never love. I watched them blossom from compelling ideas into full-bodied games, breath catching with each new screenshot and trailer. As soon as I was able I took them home, carefully peeling away the plastic and slipping them gently inside my game console. I entered their worlds with the best of intentions, listening to their stories unfold attentively. For a moment it felt as if I truly cared.
But as soon as the talking stopped it was all about me. I plowed pedestrians from their streets with reckless abandon. I rode their trails hard, unloading my weapons on anything that moved. I ignored their pleas for plot progression, instead seeking out random actions that satisfied my carnal nature, repeating them over and over until I was spent. I left them unfulfilled on the entertainment center shelf, collecting dust with their cases just out of reach.
With Far Cry 3 (played on PC, also available on Xbox 360 and PlayStation 3) it was different. It was the friend of a friend (Kirk Hamilton) that I only hooked up with out of courtesy. It was attractive, sure, but I wasn't expecting much more than a brief encounter. I'd hang out for an hour or two and then move on.