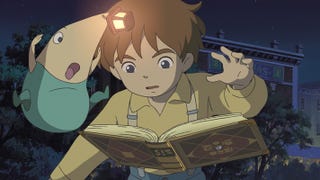 This is the last new Random Encounters you will ever read in 2012. Shed a tear.
Okay. Now that you're done crying, let's talk new years. I imagine that 2013 will be an interesting year for JRPG fans in both good and bad ways. So I've drawn up ten JRPG-related predictions—some ridiculous, others not-so-ridiculous—for the Year Of Our Lord Two Thousand Thirteen.
Let's go.
1. Ni No Kuni Will Bomb.
It makes me sad just to write this, but I think the first big JRPG of 2013 will be a sales flop. Critics will love Ni no Kuni, but it will ultimately fail to garner much of an audience thanks to its strange name and lack of mainstream retail exposure. I imagine I will still enjoy the heck out of the game.
2. Square Will Reveal That Final Fantasy Versus XIII Is Now Final Fantasy XV.
They'll realize that the XIII brand is way played out, and show off the newly-named Final Fantasy XV at E3. It will be stunning, and it will hit Durango and Orbis in spring 2014.
3. Lightning Returns: Final Fantasy XIII Will Be Surprisingly Good.
I couldn't stand Final Fantasy XIII and I thought its sequel was just as dull, but I have a good feeling about Lightning Returns, despite the tepid reactions it's earned from fans so far. The gameplay sounds unique and interesting. I think it could be a cool game.