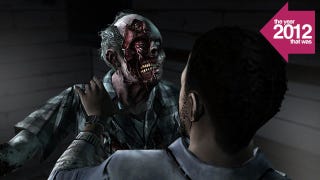 I didn't notice how fairly quiet a year it's been for zombies until doing this round-up of all the flesh-eaters this year's media has to offer, but there were definitely some highlights that more than fill those gaps. Some duds, too, but you can't expect such a watered down narrative to always go over so creatively.
So let's take a look back at 2012 and all the zombie media that it had to offer. From games to comics to TV shows to film, here are a few highlights. If we missed any you're keen on, share your noteworthy selections in Kinja below.
---
The Games
The Walking Dead
This is the star of the list. Telltale's wonderfully harrowing episodic series was a somber exploration through your personal judgments as the game threw increasingly difficult decisions your way. The point-and-click adventure game also featured some refreshingly interesting characters, including a remarkably enjoyable young Clementine and a steadfast Lee. Though definitely the mediocre platform of the bunch, the iOS version available was an alternative to non-console gaming users. Which is great, because the more people that play this touching eye-opener the better.