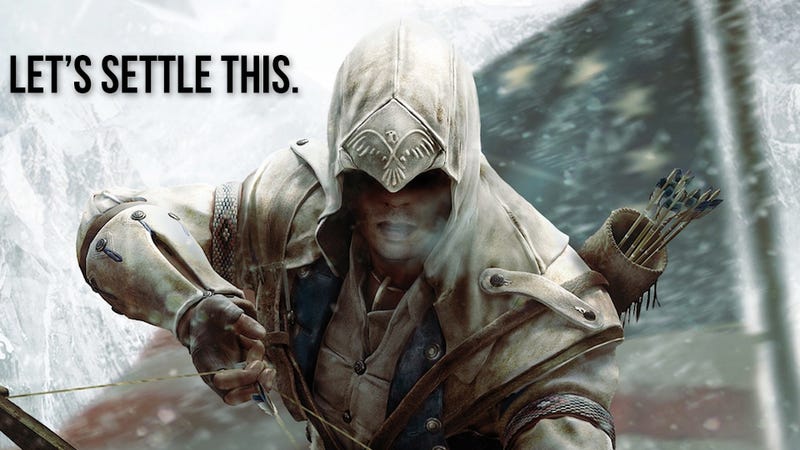 Assassin's Creed III is easily one of the most divisive video games of 2012. It was a hugely ambitious slate-cleaner for the long-running Assassin's Creed franchise, and while it did a number of things right, it also got a lot of things wrong.
Now that the three of us have completed the game, each of us has a different take on it. In the spirit of holiday togetherness (and holiday bickering), we decided to throw it all down and parse what this game did right, and what it did wrong.
What started as an email exchange between Luke and Stephen expanded to include Kirk, and eventually gave way to a lengthy chatroom discussion. It's all below for your perusal. Major Assassin's Creed III spoilers throughout.
---
Post-Game Emails
---
From: Stephen Totilo
To: Luke Plunkett
Luke,
You finished Assassin's Creed III and I sense you might be... angry with me about it? Did my positive review lead you astray?
You said that we would someday have a long talk about the game. I think that long talk might be worth sharing with the readers or at least committing to virtual paper while your feelings about the game are still hot.
So lay it on me: what did you think of the game? At least tell me that you liked the tree-climbing and the sailing... yes?
(You don't have to respond right away, but if you want to vent...)
---
From: Luke Plunkett
To: Stephen Totilo
Stephen,
Your review did lead me astray! As such a big fan of the series, with you being so glowing about it I thought it was something I'd agree with. But I don't. I thought Assassin's Creed III was a broken game, one that shone in some parts but which was crushingly disappointing in many others.
I think, above all else, ACIII is a testament to the dangers of developing a game with such big teams. Because I think it lacks focus and cohesion. There's nothing tying the game together.
I thought the opening few chapters were ponderous garbage. The most infuriating tutorial in living memory. Reducing such a free-form series into a succession of CoD-esque instances and instructions on basic techniques, which take 3-5 HOURS to complete, was almost insulting. I know, you can go running around in spite of them, but even that's poorly explained (like, I didn't go exploring as Haytham, because I was worried I'd lose any map exploration progress when I inevitably changed characters).
I'd go so far as to suspect ACIII is the Halo 2 of this hardware generation.
But that's just the start. So much of the game is bloat, pointless side-missions with poor narrative incentives and limited assistance to your techniques or gear. The checkpointing system is enough to make you throw a controller out the window. I failed THREE missions due to critical bugs, like disappearing flag poles and haycarts that teleport inside buildings. The story is torn between telling that of America and that of Connor, and half-asses both of them, leaving you confused and at times bewildered as to what's actually going on. Desmond's platforming sequences in the temple were, without pathfinding, tiresome. The world is too big for this kind of engine/game, which makes it look artificial. And empty.
And yet... there's so much to love. Like you, I thought the way they deal with the politics of the war, and the plight of Native Americans, is amazing. To see the war told as history, and not myth like most Americans present it, was refreshing. The combat was far more fluid and enjoyable than previous games (the fort missions are the game's highlight... they're like a perverse kind of sword ballet). The naval combat should indeed have been a standalone game, it's so good. The few side-missions that DO have some meat to them are a blast. There's a point, between around sequences 6-9, where you think this might be one of the best games of the year.
Then it ends so poorly. The story falls apart, either rushing through sequences or just plain dropping entire plotpoints. The last few missions lack the scope or polish of those before it. The very last mission is a farce.
So, yeah. My final thoughts/point: you can tell 400 or 600 or however many people worked on this game. Some of them did a great job. Some of them did an OK job. Some of them did a terrible job. But the worst offender, then, is the lack of anyone tying it all together into something as tight as an Ezio adventure, where the city felt like your plaything and the story was one you could follow and give a damn about.
I'd go so far as to suspect ACIII is the Halo 2 of this hardware generation (bear with me). A game torn between ambition and reality, perhaps designed for an upcoming generation of hardware then rushed out the door and compromised because that hardware was taking too long. Or, if that's too drastic a theory, then maybe it was just rushed to make holiday sales. Because being pushed out the door before it was polished and tied up is only logical explanation I can come up with as to how such an important game can be so occasionally incredible and yet so often awful at the same time.
---
From: Stephen Totilo
To: Luke Plunkett, Kirk Hamilton
Luke and Kirk,
Alright. Seven days ago Luke sent the preceding reply. He had just finished Assassin's Creed and he was worked up. He even panned the ending! That surprised me. The final chase mission was frustrating (and was later patched, which is a rather awkward admission by then developers that they messed up a key part of their game), but the stuff right before and after that? I loved it.
Connor is not very likable and this is paid off in the ending. He's irritated most of the time, which makes ACIII a more bitter meal than the Ezio adventures. The story pays this off. He SHOULD be an uncomfortable character. He doesn't fit. He doesn't have a winning side. I think he knows this. As an American playing this, I'm cognizant of the fact that my country's forefathers were going to screw his people over. And so it happens in the game. He ultimately didn't win much of anything by helping him.
It doesn't go down easy. It's not as fun. But it feels bravely uncomfortable.
His discomfort as an outsider is justified. He barely fits into being an Assassin as well, and the late-game missions with his father suggest that the two men's respective factions are also ill fits for them. There is an argument in the game for familial bonds over all else, and the same tension is echoed in Desmond's discomfort for his oddly unlikable father.
Near the end of the game he is facing the need to have to fight his own people. After the final main mission, he's crawling upstate to kill a man who was the object of his misdirected youthful desire for vengeance. Then the credits roll. Then we get the epilogue missions which show just what a flawed country has been born from Connor, Washington, et al's efforts. So much of this felt right to me. It doesn't go down easy. It's not as fun. But it feels bravely uncomfortable, if that makes sense.
Kirk, what did you think?
---
From: Kirk Hamilton
To: Stephen Totilo, Luke Plunkett
Guys,
Having just finished this game, I have to say I'm leaning much more toward Luke's perspective here. Of course, I've already written at length about how frustrating and disappointing I've found much of the game, but after taking a couple of weeks off and restarting on PC, I figured I owed it to the game to play it all the way through and see it out.