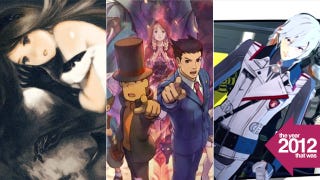 Japan: The birthplace of Mario, Sonic, Final Fantasy, and Street Fighter—just to name a few. Each year scores of games are made and released here. The best of these come to the West—or rather most of the best do. Each year, a few great titles manage to slip through the cracks for whatever reason and 2012 is no exception.

The following is a collection of the best Japan-only games of 2012 (in no particular order). Some of these will likely never see an international release while others are already rumored to have one on the way. But regardless, as things stand now, these games remain Japan-only.
---
Bravely Default: Flying Fairy (3DS)
If you are one of the millions of fans who pines for the "good old days" of Final Fantasy, then Bravely Default is the game you've been waiting for. Bravely Default takes all the basic components of classic JRPGs—towns, shops, airships, jobs, turn-based battles, and a sprawling world map—and turns out a game that is a love letter to the 8-bit and 16-bit eras. But best of all, it doesn't ignore the advances in gaming since that time and incorporates beautiful artwork and excellent voice acting to create a modern classic.